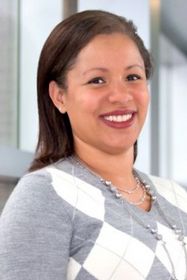 Biomedical engineering professor is one of 102 researchers to receive United States' highest award for early-stage science and engineering professionals
Dr. Debra Auguste, associate professor of biomedical engineering in the Grove School of Engineering at The City College of New York, was one of 102 researchers chosen as recipients of the Presidential Early Career Awards for Scientists and Engineers. This is the highest honor bestowed by the U.S. government on science and engineering professionals in the early stages of their research careers.
"The impressive achievements of these early-stage scientists and engineers are promising indicators of even greater successes ahead," said President Obama in a statement. "We are grateful for their commitment to generating the scientific and technical advancements that will ensure America's global leadership for many years to come."
Awardees are either funded or employed by a federal department or agency. The units nominate the most meritorious scientists and engineers whose early accomplishments show the greatest promise for assuring America's preeminence in science and engineering and contributing to the awarding agencies' missions.
Professor Auguste, who joined the Grove School faculty in 2012 from the Harvard University School of Engineering and Applied Science, is the recipient of a National Institutes of Health Director's New Innovator Award. The award, totaling $1.5 million over five years, supports her investigation into personalized therapies to inhibit breast cancer metastasis.
 
The Office of Science and Technology Policy within the Executive Office of the President coordinates the Presidential Early Career Awards. Awardees are selected for their pursuit of innovative research at the frontiers of science and technology and their commitment to community service as demonstrated through scientific leadership, public education, or community outreach.
About The City College of New York
Since 1847, The City College of New York has provided low-cost, high-quality education for New Yorkers in a wide variety of disciplines. More than 15,000 students pursue undergraduate and graduate degrees in: the College of Liberal Arts and Sciences; the Bernard and Anne Spitzer School of Architecture; the School of Education; the Grove School of Engineering; the Sophie Davis School of Biomedical Education, and the Colin Powell School for Civic and Global Leadership. U.S. News, Princeton Review and Forbes all rank City College among the best colleges and universities in the United States.
About the Grove School of Engineering
The Grove School of Engineering at The City College of New York is the only public engineering school within New York City. It offers Bachelors, Masters and Ph.D. degrees in seven fields: biomedical, chemical, civil, computer, electrical, and mechanical engineering and computer science. The School is recognized nationally for the excellence of its instructional and research programs and ranks among the most diverse engineering schools in the country.