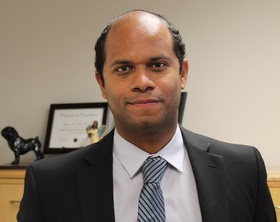 Dr. Pedro Rivera, an assistant professor of history at Savannah State University, is one of eight CCNY alumni featured in the "Dominican Blue Book" project.
Eight City College of New York alumni are among 22 notable New Yorkers of Dominican heritage whose success stories are told in "The Dominican Blue Book" that will be launched December 6, at CCNY. The gala event at 6:30 p.m. in the Great Hall, marks the 20th anniversary of the City College-based CUNY Dominican Studies Institute (DSI). It will include an honors ceremony recognizing individuals and institutions that have helped advance the mission of the DSI.

The eight CCNY alumni featured in the "Blue Book" project are:
Rafael Alvarez '91, president/CEO, ATAX Franchise, Inc.;
Marilu Maria D. Galvan, JD, '72, '79, executive director, Centro Civico Cultural Dominicano, Inc.;
Dr. Christina Guillen '97, pediatrician, assistant professor of pediatrics, The Children's Hospital/SUNY Downstate Medical Center;
Dr. Maria Pena '06, endocrinologist, NSLJIJ Syosset Hospital;
Dr. Ana Garcia Reyes '87, '89, associate dean, Hostos Community College/CUNY;
Dr. Pedro Rivera '05, assistant professor, Savannah State University; 
Dr. Ana Ofelia Rodriguez '75, director, community development, Broadway Housing Communities;
Hon. Faviola Soto, JD, '75, Judge, New York City Court of Claims.  
The book also features CCNY faculty member, Dr. Angel Estevez, director of the master's program in Spanish in the foreign languages and literatures department.  
"Their stories and those of others in the book highlight Dominicans whose success has epitomized the Dominican experience in education," said Dr. Ramona Hernández, director of the DSI, which is producing the book. "They are role models for Dominicans both in the United States and back home."
The honorees at the gala include CUNY Senior Vice Chancellor Jay Hershenson (Dominican Legacy Distinguished Leader Award), Luis Canela (Lifetime Achievement Award) and Daisy Cocco De Filippis (Stellar Alum Award).
About The City College of New York
Since 1847, The City College of New York has provided low-cost, high-quality education for New Yorkers in a wide variety of disciplines. More than 16,000 students pursue undergraduate and graduate degrees in: the College of Liberal Arts and Sciences; the Bernard and Anne Spitzer School of Architecture; the School of Education; the Grove School of Engineering; the Sophie Davis School of Biomedical Education, and the Colin Powell School for Civic and Global Leadership. U.S. News, Princeton Review and Forbes all rank City College among the best colleges and universities in the United States.
 
MEDIA CONTACT