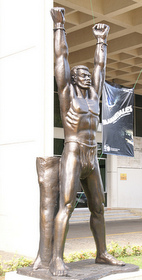 Extensive research by the CUNY Dominican Studies Institute(DSI) at the City College of New York has long asserted that first Black African presence in North America occurred on the colony of La Española. 
To share its research data with the public, the CUNY DSI has opened the exhibit "Sixteenth-Century La Espanola: Glimpses of the first Blacks in the Early Colonial Americas." It runs through September 10, 2015 in the DSI archives and library in NAC room 2/202 at City College.
"This is a groundbreaking exhibit that features manuscripts about one of the earliest ancestral groups of Dominicans who trace their origins to black Africans," said Dr. Ramona Hernández, director of the CUNY DSI.
On display are images of original documents, transcriptions, translations and photographs of historic sites on the island-colony of La Española (Hispaniola) that is today the neighboring states of the Dominican Republic and Haiti.
"The colony of La Española, the first European settlement established in the Americas, was the first place in the modern American continent where black African people arrived, lived, struggled, and thrived," added Hernández, a professor ofsociology in CCNY's Colin Powell School for Civic and Global Leadership. 
The exhibit is supported by a grant from the New York Council for the Humanities and a grant from the Office of Human Resources Management Recruitment and Diversity, CUNY.
About The City College of New York
Since 1847, The City College of New York has provided low-cost, high-quality education for New Yorkers in a wide variety of disciplines. More than 16,000 students pursue undergraduate and graduate degrees in: the College of Liberal Arts and Sciences; the Bernard and Anne Spitzer School of Architecture; the School of Education; the Grove School of Engineering; the Sophie Davis School of Biomedical Education, and the Colin Powell School for Civic and Global Leadership. U.S. News, Princeton Review and Forbes all rank City College among the best colleges and universities in the United States.