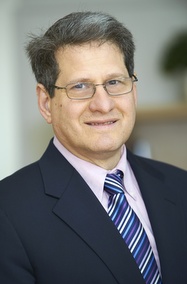 Honors to Elliot Jurist in 2014 and Paul Wachtel in 2013 mark first time professors from same institution win twice in a row
For the second time in as many years, a City College of New York psychology professor has received the American Psychological Association (APA) Division 39 Scholarship and Research Award. This year's recipient is Professor Elliot L. Jurist. His colleague, Dr. Paul Wachtel, won in 2013. This is the first time that professors from the same institution have been given the award in consecutive years. 
The Scholarship and Research Award recognizes APA members who have made significant contributions to psychoanalytic theory, practice, and/or research. Professor Jurist has written widely on psychoanalytic theory, theories of emotion and mentalization theory. His other research interests include ethics, substance abuse and the history of psychology. 
Professor Jurist, who served as director of the CUNY Doctoral Program in Clinical Psychology from 2004 to 2013, will be recognized by the organization at its spring meeting, April 24 at the Sheraton New York Hotel. He will present a lecture on mentalizing conflict, as well.
APA Division 39, formally the Division of Psychoanalysis, has more than 3,000 doctoral-level psychologists, graduate students and allied mental health professionals in its ranks. It is one of the largest associations of psychoanalytic professionals and scholars in the world.
The City College psychology department is housed in the Colin Powell School for Civic and Global Leadership. 
About The City College of New York 
Since 1847, The City College of New York has provided low-cost, high-quality education for New Yorkers in a wide variety of disciplines. More than 16,000 students pursue undergraduate and graduate degrees in: the College of Liberal Arts and Sciences; the Bernard and Anne Spitzer School of Architecture; the School of Education; the Grove School of Engineering; the Sophie Davis School of Biomedical Education, and the Colin Powell School for Civic and Global Leadership. U.S. News, Princeton Review and Forbes all rank City College among the best colleges and universities in the United States.