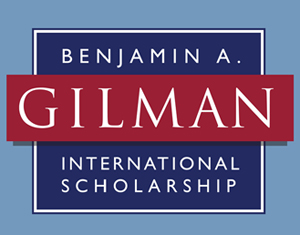 Lewis Tse, a City College of New York engineering major, was awarded the prestigious Benjamin A. Gilman International Scholarship for fall 2016.  Tse is spending the semester in Singapore's Nanyang Technical University, which ranked as U.S. News & World Report's "Best Global Universities 2016."
The competitive Gilman program provides students with limited financial means an opportunity to enhance their skills abroad so that they can apply their experience to future careers while embracing a new culture.  Since the program's inception in 2001, over 22,000 scholarships have been awarded—several to CCNY students.
This past spring semester, three undergraduate students were awarded Gilman Scholarships, and this summer, six undergraduates went to study overseas.  Tse will be the 10th student to take this incredible, eye-opening journey this year.
Past recipients have studied Arabic at the University of Amman, Jordan to studying Italian at Senigallia in Italy.  Wherever these scholars voyage to the opportunities are endless. 
The Gilman Scholarship Program is sponsored by the Bureau of Educational and Cultural Affairs of the U.S. Department of State and established by the International Academic Opportunity Act of 2000.
About The City College of New York
Since 1847, The City College of New York has provided low-cost, high-quality education for New Yorkers in a wide variety of disciplines. More than 15,000 students pursue undergraduate and graduate degrees in the College of Liberal Arts and Science; Bernard and Anne Spitzer School of Architecture; School of Education; Grove School of Engineering; Sophie Davis Biomedical Education/CUNY School of Medicine; and the Colin Powell School for Civic and Global Leadership. U.S. News, Princeton Review and Forbes all rank City College among the best colleges and universities in the United States.