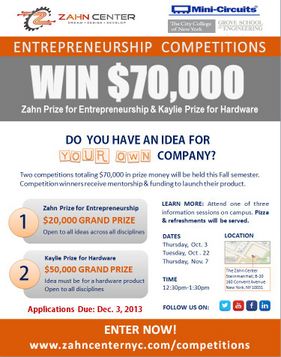 Zahn Prize for Entrepreneurship, Kaylie Prize for Hardware offer prizes totaling $70,000; all CCNY students eligible to compete
City College's Zahn Innovation Center is holding three information sessions for students who want to learn how to enter two college-wide entrepreneurship competitions; the Zahn Prize for Entrepreneurship and the Kaylie Prize for Hardware. The contests, open to CCNY students in all fields of study, offer prizes totaling $70,000.
The sessions will be held 12:30 – 1:30 pm Thursday, October 3; Tuesday, October 22, and Thursday, November 7, in Room B-20, Steinman Hall. Pizza and refreshments will be served.
The Zahn Prize is an annual competition for students, staff, faculty and alumni of City College that is sponsored by the Zahn Center. The prize aims to encourage participants to develop and implement their entrepreneurial ideas, and to understand how to incorporate lean startup principles as they develop their business idea. It awards $20,000 to the winner of first prize.

The Kaylie Prize was established in 2010 through an endowment by alumnus Harvey Kaylie. Mr. Kaylie is president and founder of Mini-Circuits, a Brooklyn-based RF and microwave electronic components design, manufacture and distribution company. The Kaylie Prize is in its fourth year of existence and has developed into one of the most innovative and exciting entrepreneurship mechanisms in New York City, accelerating the pace of commercialization for student-generated ideas. It awards $50,000 to the winner of first prize.
On the Internet