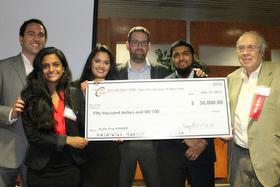 Members of the GesTone team receive the Kaylie Prize. (From left) Haytham Elhawary, executive director, Zahn Innovation Center; GesTone team members Ann Marie Valuakulathil and Tanya Uddin; Professor Marom Biksonl GesTone team member Tanjin Panna, and City College alumnus and competition benefactor Harvey Kaylie, '60.
$50,000 Kaylie Prize to GesTone for muscle tone assessment technology
GesTone, a technology using biosensors and smart detecting software to quantify and assess muscle tone, won the $50,000Kaylie Prize for Hardware. It was the largest award of $115,000 in prize money distributed to 11 teams competing in three City College of New York entrepreneurship competitions this month that were run by the Zahn Innovation Center.

Muscle tone data is necessary for treating and measuring progress of patients undergoing physical therapy after a stroke. GesTone's biofeedback data will enable therapists to provide patients with more personalized treatment and better medical prognoses on their conditions. Tanjin Panna, Alvin Sarendranath, Tanya Uddin and Ann Marie Valuakulathil, all senior biomedical engineering majors in the Grove School of Engineering, comprise the team behind GesTone.

The $20,000 Zahn Prize went to Laddine, an e-commerce venture that employs child psychologists to assess how toys contribute to child development. Sharing the award are senior economics and international studies major Teona Lavashvili and senior economics and business management major Amali Nasserddine, both in the Colin Powell School for Civic and Global Leadership.

Homer Delivery, an outsourced food delivery service with an optimized routing platform, won the $10,000 grand prize in the first Social Innovation Challenge competition. The team consists of senior electronic design and multimedia majors Daniel Stankus, alumna Elizabeth Vilchis, '13, who received a bachelor's degree in mechanical engineering, as well as co-founder Adam Price.

A list of other award winners, including team members and affiliations, follows:

Kaylie Prize Second Place ($10,000)
eKick: Aulio Diaz, senior, mechanical engineering, and Ivan Estevez, senior, civil engineering.

Kaylie Prize Audience Choice ($5,000)
Van Der Waals Technologies: Jesse Balgley, senior, physics; Vishnu Chattergoon, sophomore, electrical engineering; Christopher Considine, junior, physics; Matthew Koci, junior, computer engineering and physics, and Bo Wen, research associate, physics.

Social Innovation Challenge Finalists ($5,000 each)
Amenawon Solar School: Shirley Bucknor, April DeSimone, and Anze Zadel, Parsons the New School for Design; Michael Sorkin, Bernard and Anne Spitzer School of Architecture, and Mary Taylor, Center for Place, Culture and Politics, Graduate Center / CUNY.

NurtaLink: Owais Naeem, computer engineering, and Alamin Uddin, biology.

Social Innovation Challenge Runners Up ($3,000 each)
2X3: Alvaro Muñoz Hansen, and Arthur Getman, Sustainability in the Urban Environment.

GrantAnswers: Cris Mercado, City College alumnus and PhD candidate, Graduate Center / CUNY.

Kuumba Academy: Isreal Adeyanju and Weeks Mensah, business management, City College, and Vander Harris and Brandon Hill, political science and African American Studies, Stanford University.

Social Innovation Challenge Audience Choice
Kuumba Academy.

The Kaylie Prize for Entrepreneurship was established in 2010 through an endowment by City College alumnus Harvey Kaylie, '60. Mr. Kaylie is president and founder of Mini-Circuits, a Brooklyn-based RF and microwave electronic components design, manufacture and distribution company.

The Zahn Innovation Center, the Zahn Prize and the Social Innovation Challenge are supported by gifts to theCity College Fund from the Moxie Foundation.

About The City College of New York
Since 1847, The City College of New York has provided low-cost, high-quality education for New Yorkers in a wide variety of disciplines. More than 16,000 students pursue undergraduate and graduate degrees in: the College of Liberal Arts and Sciences; the Bernard and Anne Spitzer School of Architecture; the School of Education; the Grove School of Engineering; the Sophie Davis School of Biomedical Education, and the Colin Powell School for Civic and Global Leadership. U.S. News, Princeton Review and Forbes all rank City College among the best colleges and universities in the United States.

About The City College Fund
The City College Fund is a tax-exempt 501c(3) non-profit fundraising organization, established in 1946 to support The City College of New York in its mission to provide access and excellence in higher education, particularly to students who might not otherwise be able to afford to go to college. Gifts to The City College Fund directly benefit City College's extraordinary students, renowned faculty, innovative programs and schools.
MEDIA CONTACT