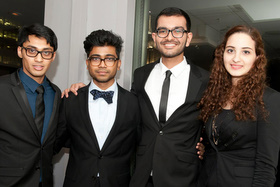 Undergrads' plan to convert wood waste to electricity, charcoal goes up against 20 top-tier b-schools in International Impact Investing Challenge
A simple, inexpensive idea to convert wood waste in India into renewable energy in the form of electricity and charcoal has won a team of City College of New York undergraduates the top prize in a CUNY-wide entrepreneurship competition and an opportunity to go up against teams from 20 top-tier graduate business schools in a national competition.
The CCNY team is the first undergraduate team ever invited to participate in the International Impact Investing Challenge (I3C), which will be held April 26 at the World Bank headquarters in Washington. Team members are: engineering majors Nishith Mamtora and Abhinav Chintakunta and economics majors Ashfaqur Mahdy and Amali Nassereddine. All are seniors.
In December, the team, sans Ms. Nassereddine who joined this month, bested 57 other teams, both graduate and undergraduate, from colleges throughout the CUNY system to finish first in the third annual CUNY Entrepreneurial Concept Competition. They garnered a $4,000 prize for their efforts.
"Every year, approximately 150 million tons of wood and agricultural waste in India is deemed useless and thrown away, creating a harmful impact on the environment," said Mr. Mamtora, who conceived the idea. "These wastes have the potential of producing more than 16,000 MW of electricity." That amount of waste is enough to support more than 32 million households per year, the Bellerose, Queens, resident added.
Noting that more than 400 million Indians live without power every day, he said converting the wood waste into renewable energy represented a great business opportunity and a vehicle for societal transformation. India has one of the world's fastest-growing middle class economies, and energy plays a key part in this growth.
The plan that Mr. Mamtora conceived, and aspires to implement in India beginning in 2014, envisages a simple and cheap method called gasification to convert the wood waste into electricity with zero carbon emission. It involves feeding the wood waste into a gasifier to create a combustible gas called syngas. That, in turn, is cleaned and fed into a gas generator to create electricity.
"Debris of wood in the gasifier will be converted to useful byproduct such as charcoal, which can be sold in rural areas as cooking fuel, where it's in high demand," said Mr. Mamtora.
The concept has other benefits. He pointed out that in addition to producing electricity and charcoal, carbon credits from the Indian government will be earned through this process. In addition, the government will provide 10 years of tax cuts and subsidies.
The I3C competition's goal is to design investment vehicles that create sustainable impact and are of the size and scope to attract institutional investors. Among the other participants are teams from Harvard, Stanford, University of California - Berkeley, Columbia and the London School of Economics.  
Ian Howe, a CCNY adjunct professor of economics and one of the mentors for the team brought the project to the attention of the I3C competition director, David Chen. Chen, convinced of idea's potential, invited the CCNY team to compete against these elite business schools. "This is a big deal," said Professor Howe, noting that this was the first time an undergraduate team has been allowed in the pitch competition.
Following their business plan, Mr. Mamtora and his colleagues plan to register a company in India this summer and seek $1 million in investment. Their initial target market is a fraction of the 400 million Indians that live without electricity.
"Initially, our company plans to build a 1.2 megawatt gasification power plant," said Mr. Mamtora. "This can provide electricity to up to 2,500 houses as we supply it to the regional grid. We're confident that, with the help of our investors, we will be able to generate at least 70 megawatts by 2020."
Commenting on the students' concept, Professor Punit Arora, an assistant professor in entrepreneurship and team mentor, said: "I thought it was a great idea from the start and encouraged them to pursue it. The team deserves the credit for their work, and winning competitions is good, but it is only a first step. The real matrix of success for a startup is a successful business on the ground, and I'll be satisfied only if the team can achieve that."
Stressing the importance of sustainable energy, Mr. Mamtora said: "We are at a point where we know for a fact that energy requirements are going to increase as India's population and economy continues to grow rapidly. Renewable energy, in that sense, is completely critical for our future as a planet and as a human race."
On the Internet: