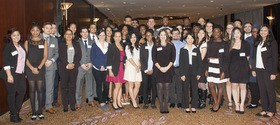 The City College of New York's annual alumni dinner at the New York Hilton is not only about honoring the institution's alumni for postgraduate achievements. Every year, City College students, ranging from freshmen to graduates, receive scholarships for academic excellence at the glittering event.
This year, 54 students were honored at the Hilton on a night that six distinguished alumni received Townsend Harris medals. Actress Phylicia Rashad, a Howard University alumna, was presented with the John H. Finley Award. 
 The scholarships are from individual CCNY alumni, alumni chapters and other groups. They include the E.Y. "Yip" Harburg, and the Wei-Ti and Ping Liu Scholarships.
Established in 1990 by Ernest Harburg in honor of his father Yip, the famous lyricist and CCNY alumnus, the $2,000 Harburg scholarship goes to an African American student, majoring in theatre or English.  Nichael Gadson is the 2015 recipient.
The Liu Scholarship is worth $5,000 and goes to an entering senior majoring in electrical engineering with a GPA of 3.0 or greater and in financial need. Erzhena Badmatsyrenova is this year's recipient.
 About The City College of New York
Since 1847, The City College of New York has provided low-cost, high-quality education for New Yorkers in a wide variety of disciplines. More than 16,000 students pursue undergraduate and graduate degrees in: the College of Liberal Arts and Sciences; the Bernard and Anne Spitzer School of Architecture; the School of Education; the Grove School of Engineering; the Sophie Davis School of Biomedical Education, and the Colin Powell School for Civic and Global Leadership. U.S. News, Princeton Review and Forbes all rank City College among the best colleges and universities in the United States.