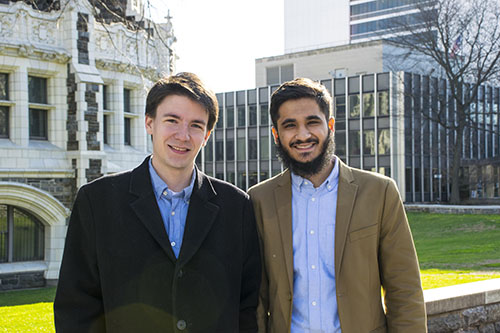 Four City College of New York students are traveling to Asia and Europe this winter 2017 semester on Benjamin A. Gilman International Scholarships.  The quartet are recipients of the competitive national scholarships that provide support for overseas travel and research.
Junior Ivan De Luce, sociology major, will study at Vrije Universiteit in Amsterdam. His research project for the scholarship involves visiting Syrian refugee shelters to photograph and interview subjects, which he hopes to turn into an exhibit upon his return to City College. The Washington Heights resident will study courses related to migration theory.
Senior Nabil Ahmed Khatri, computer science major, will study at VU Amsterdam where his coursework will be a combination of computer science and entrepreneurship courses. Khatri will also explore startups in Amsterdam to meet and learn about other entrepreneurs and their ventures.
"With Gilman's financial support, it takes the financial burden off my family and me. I'll be able to use my personal savings to fund weekend excursions," said Khatri, a Macaulay Honors College member and native of Queens.
Junior Sharon Duran, international studies major, will study in Seoul, South Korea at Hankuk University of Foreign Studies. The Manhattan native will focus on international politics and global studies courses as well as Korean history and language. Senior Tammie M. David, political science major, will study at SciencePo in France.
The Gilman program provides students with limited financial means an opportunity to enhance their skills abroad so that they can apply their experience to future careers while embracing a new culture.  Since the program's inception in 2001, over 22,000 scholarships have been awarded.
Learn more about Gilman scholars' City College experience here.
About The City College of New York
Since 1847, The City College of New York has provided low-cost, high-quality education for New Yorkers in a wide variety of disciplines. More than 15,000 students pursue undergraduate and graduate degrees in eight professional schools. View CCNY Media Kit .