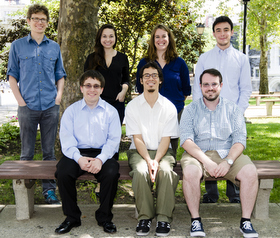 Four PhD students at The City College of New York have been awarded Graduate Assistance in Areas of National Need (GAANN) Fellowships for excellence by the U.S. Department of Education (DoE). The fellows, who will receive need-based support including a stipend of up to $30,000 annually from the second year of their respective programs, are:
Jared Bass (molecular, cellular and developmental biology)
Jose Cobo (biochemistry)
Silas Hartley (biochemistry)
Alicia Sponholz (molecular, cellular and developmental biology)
This brings to eight the number of GAANN fellows at City College in the last ten months. Other recent fellows include Monika Buczek (molecular, cellular and developmental biology), William Houlihan (chemical engineering), Leo PeBenito (chemistry) and Nathan Will (biochemistry).
CCNY's GAANN program is directed by Distinguished Professor of Chemistry Ruth Stark under a grant from the DoE, with matching funds provided by The City University of New York. The program supports students supervised by faculty mentors in the linked interdisciplinary areas of molecular biophysics and biomaterials.
About The City College of New York
Since 1847, The City College of New York has provided low-cost, high-quality education for New Yorkers in a wide variety of disciplines. More than 16,000 students pursue undergraduate and graduate degrees in: the College of Liberal Arts and Sciences; the Bernard and Anne Spitzer School of Architecture; the School of Education; the Grove School of Engineering; the Sophie Davis School of Biomedical Education, and the Colin Powell School for Civic and Global Leadership. U.S. News, Princeton Review and Forbes all rank City College among the best colleges and universities in the United States.