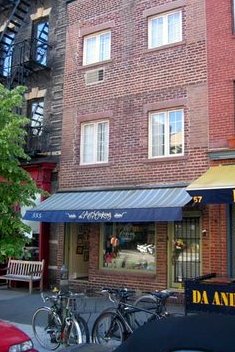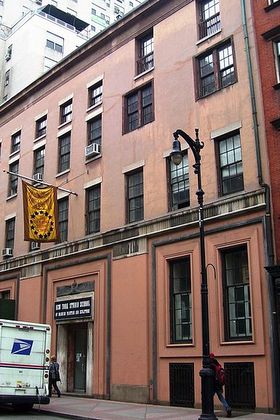 City College seminar on gender and architecture nominates 14 NYC sites for City Lore's Census of Places That Matter
The list of recognized places of significance in New York City identified with women's history and gender is brief. For example, the New York State women's history trail includes only three locations in the Big Apple.
Now, students in a seminar on Gender and Architecture at City College's Spitzer School of Architecture have identified 14 more. They range from a Harlem apartment building to a mural in Brooklyn to a 72 year-old bridal shop. All have been nominated for inclusion on the Census of Places That Matter, a website that was created by City Lore and the Municipal Art Society to help conserve New York City's historically and culturally significant places.
 
Dr. Marta Gutman, professor of architecture history, created the seminar to get students to understand how gender is understood and shapes everyday spaces in New York City. Rather than assign a list of sites to study, however, she asked them to identify and research buildings and places they thought mattered and then make the case for why they belonged in the census.
"All of the students were asked to find a place that connected with women, gender or issues of sexuality and what people did there to further the cause of equality and make New York City a better place," she explained.
Further, she wanted to have her students' work used in a way that could aid the cause of history and preservation and raise awareness of gender and feministic issues. The Census of Places That Matter website provided a "perfect venue" for doing that.
The addition of the CCNY students' research has been a "huge boon" for the Place Matters project, said director Molly Garfinkel. "This has been a fantastic help for us. You can never have enough sites related to women's history."
She added that because many of the places that were researched relate to areas like working class history, recreation and activism, the student projects broaden the scope of what it included in the Census.
Ms. Garfinkel is featuring the student projects in the site's news section, and several are being selected as "Place of the Month." The first to be so recognized, Laura Sanburn's report on Kleinfeld Bridal Salon, has little to do with working class issues, recreation or activism, however.
Ms. Sanburn, who just earned an MArch degree and hails from Spokane, Wash., said she chose Kleinfeld, in part, because she is a bride to be, and she "wanted to do something that wasn't necessarily feminist or what you think a typical report on women would be about."
She not only read newspaper clippings and books about the famed emporium, but she did field research by scheduling a appointment so she could experience firsthand the famed Kleinfeld bridal consultation. "Kleinfeld revealed an industry grounded in tradition yet pushing into the 21st century through mass media and updating of traditions," she said. "It made me realize how big the wedding industry is and how much it is a business."
One of the challenges for Professor Gutman's students was to conduct research using classical historical techniques, including archival records, but present it in a way that made it accessible to the public at large. This resulted in several innovative approaches to telling a location's story.
Jeff Kasper studied 555 Hudson Street, the Greenwich Village building where urban activist Jane Jacobs lived. To tell its story, he incorporated photos to illustrate what life in Greenwich Village was like when Ms. Jacobs was fighting Robert Moses' effort to build an expressway there.
"Part of the goal was to encourage the students to see what constitutes an important structure without focusing on the architecture," Professor Gutman said. "I want them to think about what they can find in everyday places that makes them special."
A full list of the students in the seminar and places they nominated follows:
 
Gemma Diaz, 464 W. 125th St., Manhattan
Frances Felske, Barbizon Hotel
Tashira Gibson, mural in Brooklyn
Jeff Kasper, 555 Hudson St., Manhattan
Tiffany Kimmel, Inwood House
Michael Mason, "St. Pat's for All" Parade
Kelly McCracken, United Order of Tents
Deidre McMullen, Manhattan Village Academy
Vanessa Pava-Villamazar, Civic Virtue
David Penaherrera, New York Studio School
Anthony Principato, Gravesent Town Square
Andrew Salimian, Harlem Playground
Laura Sanburn, Kleinfeld Bridal Salon
On the Internet
Census of Places That Matter
About The City College of New York
Since 1847, The City College of New York has provided low-cost, high-quality education for New Yorkers in a wide variety of disciplines. More than 16,000 students pursue undergraduate and graduate degrees in: the College of Liberal Arts and Sciences; the Bernard and Anne Spitzer School of Architecture; the School of Education; the Grove School of Engineering, the Sophie Davis School of Biomedical Education, and the Colin L. Powell School for Civic and Global Leadership.  
Set on a striking, 35-acre hilltop campus in upper Manhattan, CCNY has produced more Nobel laureates than any other public institution in the United States. The College has been touted as one of the Best Colleges in the United States as well as one of the Best Value Colleges by the Princeton Review, and ranks among U.S. News' top regional universities.