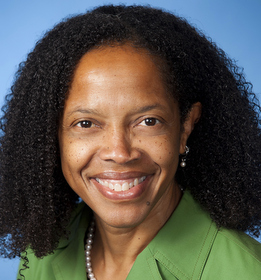 Dr. Gilda Barabino, dean of the City College of New York's Grove School of Engineering, was elected president of theAmerican Institute for Medical and Biological Engineering(AIMBE) at its annual meeting in Washington, D.C. March 16. She will serve a two-year term beginning in 2016.
Barabino is currently chair of AIMBE's committee for underrepresented minorities.  
Her election as president came on the day Dr. Marom Bikson, professor of biomedical engineering in the Grove School, was inducted into AIMBE's College of Fellows for his outstanding research.
Barabino has served as dean of the Grove School since 2013. She is the first African-American woman to serve as dean of engineering at a college that is not an HBCU.
A noted researcher in sickle cell disease, cellular and tissue engineering, she has distinguished herself as a leader and tireless advocate for diversity in science and engineering.
AIMBE is a non-profit organization headquartered in Washington, D.C., representing 50,000 individuals and the top 2% of medical and biological engineers. It also represents academic institutions, private industry, and professional engineering societies.  
About The City College of New York
Since 1847, The City College of New York has provided low-cost, high-quality education for New Yorkers in a wide variety of disciplines. More than 16,000 students pursue undergraduate and graduate degrees in: the College of Liberal Arts and Sciences; the Bernard and Anne Spitzer School of Architecture; the School of Education; the Grove School of Engineering; the Sophie Davis School of Biomedical Education, and the Colin Powell School for Civic and Global Leadership. U.S. News, Princeton Review and Forbes all rank City College among the best colleges and universities in the United States.