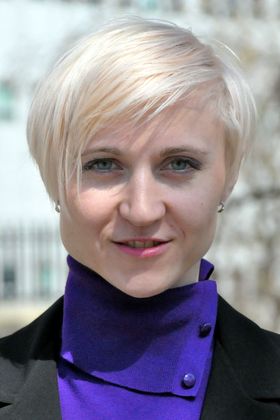 Chemical engineering major from Ukraine is 6th winner from City College since 2004
Alla Zamarayeva, a junior chemical engineering major in the Grove School of Engineering at The City College of New York, has been awarded a Goldwater Scholarship for 2013 from the Barry M. Goldwater Scholarship and Excellence in Education Foundation. The Goldwater Scholarship, which is federally funded, is America's premiere award for undergraduates majoring in math, science and engineering.

"We are thrilled by this recognition for Alla," said CCNY President Lisa S. Coico in congratulating her. "She came here from Ukraine to pursue her dream of becoming an engineer. With the support of her mentors at City College, she has distinguished herself in the classroom, the laboratory and, now, the prestigious Goldwater national scholarship competition."

As a Goldwater Scholar, Ms. Zamarayeva receives an annual stipend of up to $7,500 for up to two years to be used for tuition, room and board, books and other expenses. Many past Goldwater Scholars have gone to prestigious post-graduate fellowship programs, including 80 Rhodes Scholarships, 118 Marshall Awards and 110 Churchill Scholarships. Among the Rhodes Scholars are two Goldwater winners from City College; Lev Sviridov, '05, and David Bauer, '09.

Ms. Zamarayeva was one of 271 mathematics, science and engineering students from across the United States chosen as Goldwater Scholars this year from a field of 1,107 applicants nominated by their respective institutions. She is the sixth winner from City College since 2004. Prior CCNY Goldwater Scholars are: Johnson Ho, 2011; Mr. Bauer and Itamar Balisha, 2007; Phillipa Njau, 2005, and Mr. Sviridov, 2004.
 
"Winning the Goldwater Scholarship has changed my whole academic experience for the better," said Ms. Zamarayeva, who also holds a bachelor's degree in business administration from University of Vienna – Kiev. "I am very thankful to Jennifer Lutton of the City College Honors Center for encouraging me to apply and teaching me how to write an effective application."

Ms. Zamarayeva, who has a 3.9 GPA, said she came to the United States to study engineering because there are more opportunities here than in her home country. She added that she chose City College for its affordable, quality engineering education and diverse environment. Her goal is to pursue a PhD in chemical engineering and to conduct research on energy storage and carbon-free energy production systems and teach at the university level.

In addition to her classroom accomplishments, she has been a PREM Fellow (Partnership for Research and Education in Materials) since March 2011. She contributed to the publication of two journal articles on stretchable and flexible alkaline batteries and three research projects on structural batteries for hybrid electric propulsion systems.

In addition, Ms. Zamarayeva spent four semesters as an undergraduate research assistant with the CUNY Energy Institute under the guidance of Professor Dan Steingart, who is now at Princeton University. Currently, she is an undergraduate research assistant with the Levich Institute under the mentorship of Professor Jeff Morris.

A Manhattan resident, she was recently elected president of Omega Chi Epsilon, the National Chemical Engineering Honors Society, and holds memberships in the American Institute of Chemical Engineers, American Nuclear Society and Golden Key International Honour Society. In addition, she is an engineering educational outreach project volunteer and volunteered with the recent U.S. Navy SeaPerch Underwater Robotics Competition.