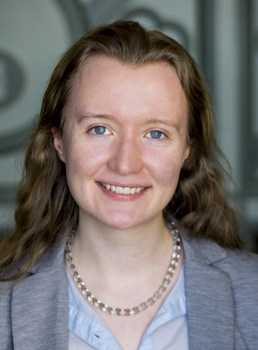 Alexandra (Sasha) Whittaker, an art history major in the Macaulay Honors College at The City College of New York, is the recipient of a 2017-2018 Fulbright Study/Research Grant to Poland. She will spend nine months at Adam Mickiewicz University (UAM) in Poznań from this fall researching post-World War II Polish photography. Whittaker, who graduates from City College this June with a BA degree, will also take courses at the UAM Institute of Art History and study Polish.  
The Riverdale, Bronx, resident discovered her passion for art history, with a special interest in the history of photography, at CCNY. The opportunity to study abroad in Prague and Kraków deepened her interest in art and architecture from central and eastern Europe. She spent fall 2015 as a curatorial intern at the National Gallery in Prague, Czech Republic.
Whittaker's current research examines the activities of Czech and Polish photographers during the Cold War, focusing on the complicated relationship between artists and totalitarian states.
The Fulbright grant is the latest honor earned by Whittaker. Her other awards and accolades during her four years at CCNY include:  
City College Fellowship for Undergraduate Students Seeking Careers in Advanced Research and College Teaching;
Connor Study Abroad Fellowship;
First Place, Connor Essay Awards, City College Art Department
In addition, Whittaker is a Lisa Goldberg/Revson Scholar and a Horace W. Goldsmith Scholar in the Macaulay Honors College.
About The City College of New York
Since 1847, The City College of New York has provided low-cost, high-quality education for New Yorkers in a wide variety of disciplines. More than 15,000 students pursue undergraduate and graduate degrees in eight professional schools and divisions. View CCNY Media Kit.
About the Fulbright Scholar Program
Established in 1946 under legislation introduced by the late Sen. J. William Fulbright of Arkansas, the program's purpose is to build mutual understanding between the people of the United States and other countries. Fulbright Scholars are selected on the basis of academic or professional achievement and demonstrated leadership potential in their fields.