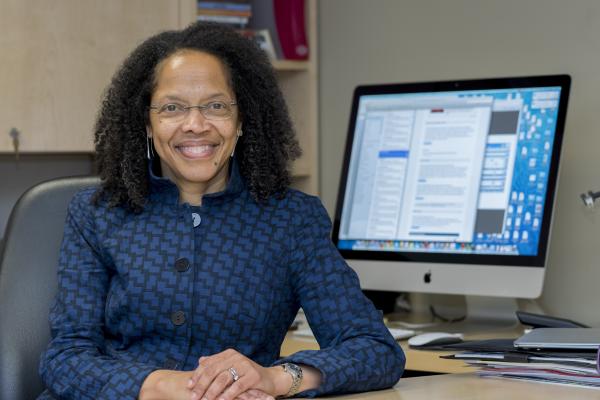 Grove School's Dean Barabino is STEM award recipient.
The City College of New York's Gilda Barabino, dean and Berg professor at the Grove School of Engineering, is a recipient of the Presidential Award for Excellence in Science, Mathematics and Engineering Mentoring. The award, presented by the White House Office of Science and Technology Policy with the National Science Foundation, recognizes excellence in STEM teaching and mentoring.
PAESMEM also recognizes the critical roles mentors play outside the traditional classroom in the academic and professional development of the future STEM workforce. Colleagues, administrators, and students nominate individuals and organizations for exemplary mentoring sustained over a minimum of five years.
Mentors support learners from the kindergarten through collegiate levels, as well as those who recently have started their careers in STEM. They share their expertise and guidance with learners from traditionally underrepresented groups in STEM.
In addition, Barabino received the 2017 Pierre Galletti Award from the American Institute for Medical and Biological Engineering where she was the president from 2016-18. As AIMBE's highest individual honor, it recognizes a member's contributions to public awareness of medical and biological engineering, and to the promotion of the national interest in science, engineering and education.
She was also awarded AIChE's 2016 William W. Grimes Award for Excellence in Chemical Engineering in recognition of her outstanding achievements as a distinguished role model for underrepresented minorities in chemical engineering. It applauded her mentoring, contributions to the community and her excellent scientific contributions to the advancement of chemical engineering.
About The City College of New York
Since 1847, The City College of New York has provided a high quality and affordable education to generations of New Yorkers in a wide variety of disciplines. Today The Chronicle of Higher Education ranks CCNY #2 among public colleges with the greatest success in ensuring the social mobility of our student body; at the same time the Center for world University Rankings places it in the top 1.2% of universities worldwide in terms of academic excellence. More than 16,000 students pursue undergraduate and graduate degrees in eight professional schools and divisions, driven by significant funded research, creativity and scholarship. CCNY is as diverse, dynamic and visionary as New York City itself.  View CCNY Media Kit.
Ashley Arocho
p: 212.650.6460
e: //aarocho@ccny.cuny.edu /" style="box-sizing: content-box; margin: 0px; padding: 0px; outline: 0px; text-decoration-line: none; font-family: Raleway, sans-serif; font-size: 13px; background-color: rgb(243, 243, 243); color: rgb(158, 48, 57) !important;"> aarocho@ccny.cuny.edu
View CCNY Media Kit