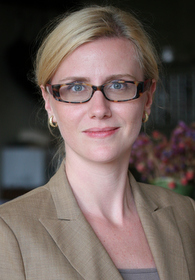 City College of New York historian and author Emily Greble is headed to Serbia on a 2015-2016 Fulbright Scholar Award to research and write a book about Muslims in post-Ottoman Europe. She will spend spring 2016 working on the project entitled "Muslims on the Edge of Europe: the Making of a "European" Islam in the Balkans, 1878–1946." The book analyzes Muslim life, politics, law, and culture in the post-Ottoman Balkans. 
An associate professor and deputy chair of City College's history department, Greble specializes in the history of modern Eastern Europe and the Balkans, particularly the countries of the former Yugoslavia. Her research and teaching focus on questions of Islam in Europe, civil war, social transformation, and the nature of the post-Ottoman era.
Her first book, "Sarajevo, 1941-1945: Muslims, Christians, and Jews in Hitler's Europe" (Cornell University Press) was published in 2011. It probed the nature of multiculturalism and the ways that a multicultural community responded to the crises of occupation, civil war, and genocide. 
Greble has held fellowships at the Remarque Institute at New York University, the Belfer Center for Science and International Affairs at Harvard, and the Mandel Center for Advanced Holocaust Studies.
About The City College of New York
Since 1847, The City College of New York has provided low-cost, high-quality education for New Yorkers in a wide variety of disciplines. More than 16,000 students pursue undergraduate and graduate degrees in: the College of Liberal Arts and Sciences; the Bernard and Anne Spitzer School of Architecture; the School of Education; the Grove School of Engineering; the Sophie Davis School of Biomedical Education, and the Colin Powell School for Civic and Global Leadership. U.S. News, Princeton Review and Forbes all rank City College among the best colleges and universities in the United States.