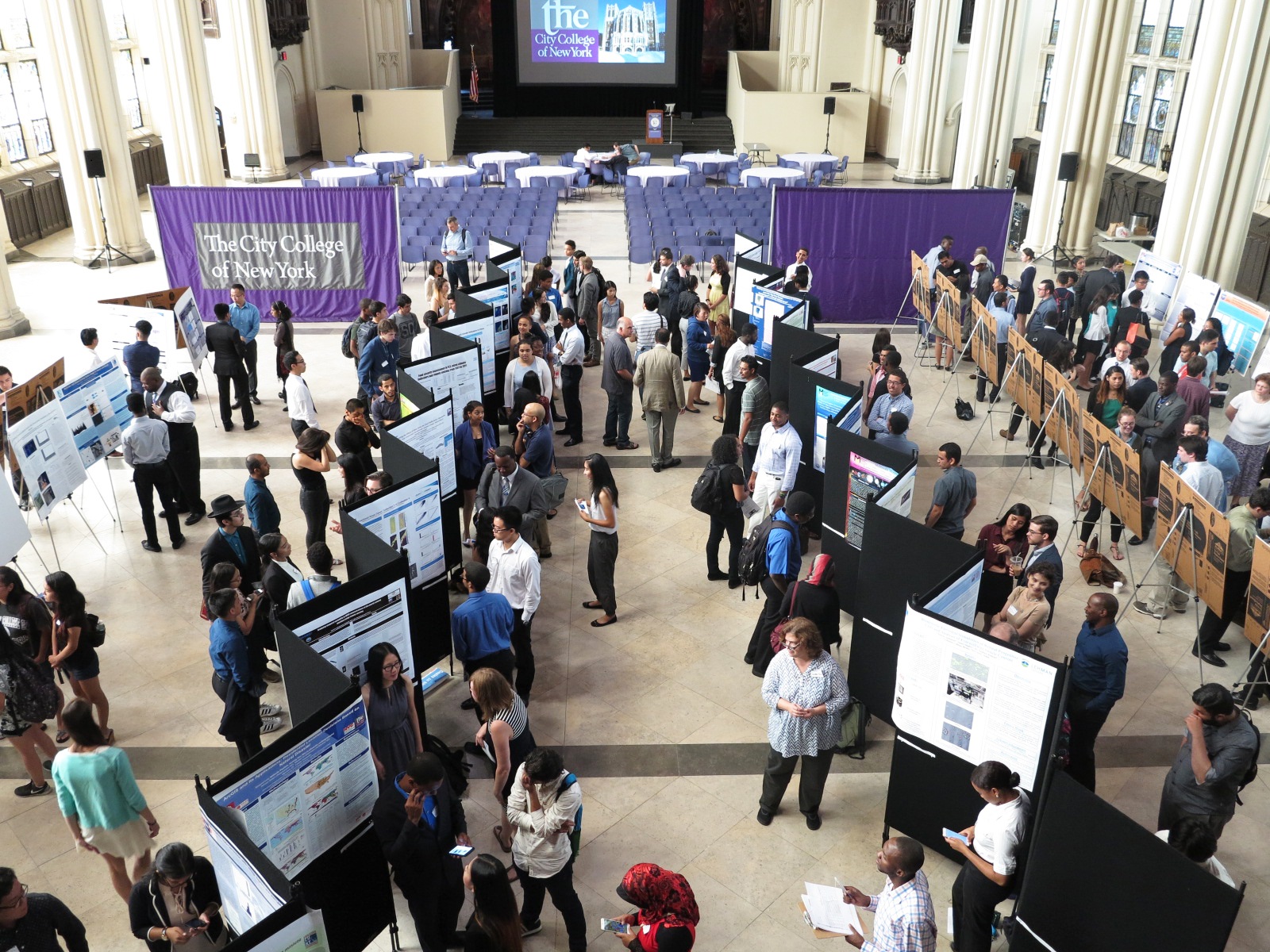 NSF-Sponsored Hispanic Student Achievement Conference, May 23 through May 25
The HSI:URBANO Conference, an exploration of the issues affecting Hispanic and underrepresented minority students in science, technology, engineering and mathematics (STEM), will take place from May 23, 2018, through May 25.  The conference, funded by the National Science Foundation and focused on Hispanic Serving Institutions (HSI), will be held in the CUNY Graduate Center's Advanced Science Research Center on the campus of the City College of New York.  Registration is currently underway and is accessible at the HSI:URBANO Conference website.
"The HSI:Urbano Conference is an exceptional opportunity to explore what is keeping Hispanic students from taking their place in STEM studies and STEM careers," noted Jorge Gonzalez-Cruz, Mechanical Engineering professor at the City College of New York and conference coordinator. "More importantly, the conference will identify specific solutions that can be implemented in urban colleges to address this issue."
Conference Purpose:
Hispanics represent 18 percent of the United States population today and are projected to represent 30 percent of the population by the year 2050.  However, they receive only 9 percent of the STEM degrees awarded, and account for only 7 percent of the America's STEM workforce.  This discrepancy represents a significant gap – in achievement, in lost potential, in economic opportunity, in work-ready employees for industry – that places our country at risk.  The National Science Foundation (NSF) has committed substantial resources to address this issue over the years.  It has funded the HSI:Urbano conference, and several others like it throughout the country, to gather insights into the reasons for this gap and to identify interventions that can help to close it.  The conference will end with a grant writing workshop conducted by Joan Walker, HSI program director with the NSF.
"This is a critical issue for the NSF," said Walker.  "We are looking forward to the conference and to considering the proposals that will undoubtedly emerge from it."
Conference Information:
The HSI:Urbano Conference will begin on May 23 with a description of the nature and importance of HSI issues by experts in the field. A series of panel discussions then will explore the nature of the issues from three perspectives:
    College administrators, who provide services to students to support their studies and prepare them for graduation
    Employers, who consider the qualifications of students seeking STEM careers
    Students themselves, whose perspective on Hispanic and underrepresented student performance in STEM is not often considered.
City College President Vincent Boudreau also is scheduled to speak.
The second day of the conference, May 24, will begin with an exploration of interventions that attempt to improve Hispanic and underrepresented student achievement and work-readiness, focusing on programs to that:
    Leverage technology in the classroom
    Use social media to build community and improve access to services
    Promote experiential (or project-based) learning.
Breakout sessions to identify additional interventions will follow. The day will culminate with a presentation from a successful Hispanic STEM student and a banquet at which NSF's Acting Assistant Director for Education and Human Resources William J. (Jim) Lewis will make a presentation.
The third day of the Conference, May 25, will present the results from the breakout sessions of the previous day.  It will end with presentations by Carmen De La Rosa, New York State Assemblywoman representing District 72, and Adriano Espaillat, Member of the United States House of Representatives, New York District 13.  CUNY Chancellor James Milliken and Manhattan Borough President Gale Brewer are also slated to speak.
The NSF Grant Writing Workshop will end the Conference. For more information about the conference, please visit http://hsiurbano.ccny.cuny.edu/.
About The City College of New York
Since 1847, The City College of New York has provided a high quality and affordable education to generations of New Yorkers in a wide variety of disciplines. Today The Chronicle of Higher Education ranks CCNY #2 among public colleges with the greatest success in ensuring the social mobility of our student body; at the same time the Center for world University Rankings places it in the top 1.2% of universities worldwide in terms of academic excellence. More than 16,000 students pursue undergraduate and graduate degrees in eight professional schools and divisions, driven by significant funded research, creativity and scholarship. CCNY is as diverse, dynamic and visionary as New York City itself.  View CCNY Media Kit.