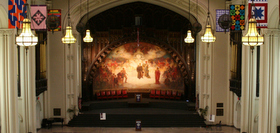 The first International Laser Radar Conference (ILRC) in the United States in seven years brings nearly 300 participants from 18 countries to The City College of New York July 5 – 10. The event, in the Great Hall in Shepard Hall, is hosted by theNOAA-CREST center at City College.
For nearly half a century, ILRC meetings have been the recognized international venue for reporting cutting edge research on LIDAR (Light Detection and Ranging) techniques, technologies and applications. It is also a venue for exchanging ideas, fostering collaborations and stimulating new and novel research directions. 
In addition, ILRC continues its commitment to foster growth of students and young scientists, and this year, through generous support of agencies and contributors, the conference has extended travel support to 43 students and scientists from participating countries.
Professors Fred Moshary and Barry Gross, both from CCNY's Grove School of Engineering, are the conference chair and program committee chair, respectively, of the 27th ILRC. Moshary is also deputy director of NOAA-CREST (National Oceanic and Atmospheric Administration's Cooperative Remote Sensing Science and Technology).
About The City College of New York
Since 1847, The City College of New York has provided low-cost, high-quality education for New Yorkers in a wide variety of disciplines. More than 15,000 students pursue undergraduate and graduate degrees in: the College of Liberal Arts and Sciences;the Bernard and Anne Spitzer School of Architecture;the School of Education;the Grove School of Engineering;the Sophie Davis School of Biomedical Education, and the Colin Powell School for Civic and Global Leadership. U.S. News, Princeton Review and Forbes all rank City College among the best colleges and universities in the United States.