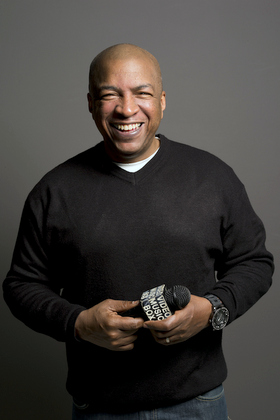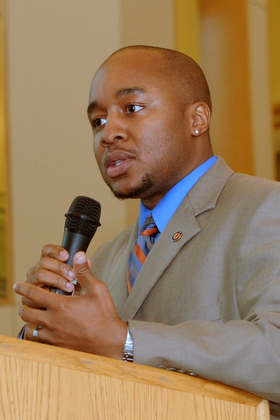 Event produced by Division of Interdisciplinary Studies at Center for Worker Education salutes Hip-Hop Appreciation Week
The City College of New York's Division of Interdisciplinary Studies hosts the fourth annual "Is Hip-Hop History?" Conference 4 – 10 p.m. Friday, May 10, at the Center for Worker Education, 7th Floor, 25 Broadway, Manhattan. This year's event honors Hip-Hop Appreciation Week.
"Chuck D. may have been prophetic when he wrote the lyric 'Treat it Like a Seminar' because hip-hop now is the subject and inspiration for much intellectual work in many academic institutions," states Warren Orange, an academic advisor in the division and conference co-founder. "We are looking to extending our vision of hip-hop pedagogy at CCNY, as other prestigious universities have done in recent years. Our conference provides an outlet for our ongoing work."
City College has a long connection to hip-hop. A number of early notable figures studied at CCNY including Russell Simmons (music and media mogul, fashion guru and prominent philanthropist); Curtis "Kurtis Blow" Walker (the first rapper to sign with a major record label, Mercury); video director Lionel "The Vid Kid" Martin; and 2012 CCNY grad Steven Gonzalez (aka Lex D. Emcee), rap vocalist for The Lifted Crew. This month, 2011 CCNY grad Andy Mineo's album "Heroes for Sale" hit number two on the ITunes hip-hop chart.
"For the past four years, CWE has promoted hip-hop as part of its interdisciplinary studies through several course offerings, a lecture series and this conference," added conference co-founder Elena Romero. "The conference serves as a platform to engage ongoing dialogue and discussions on important topics related to hip-hop both academically and to society."
Themed the "Origins Debate," this year's "Is Hip-Hop History?" Conference plans to explore the issues of hip-hop's roots and the particular experiences and contributions of Latinos.
The conference will kick off with a reception at 5 p.m. for legendary veejay Ralph McDaniels, who is celebrating the 30th anniversary of his TV show Video Music Box (VMB). McDaniels 25-panel retrospective photo exhibit telling the story of his pioneering music show opens at the conference and will run through May 30.
The reception will be followed by the keynote lecture by Quinnipiac University sociologist Don C. Sawyer III, who will discuss the "Sociology of Hip-Hop Culture." Sawyer, a Harlem native, is a former emcee and DJ. At Quinnipiac, he is teaching the Hamden, Conn. university's first sociology course dedicated to hip-hop culture.
Ms. Romero, author of "Free Stylin': How Hip-Hop Changed the Fashion Industry," will moderate "Latinos in Hip-Hop," a panel discussion on the contributions of Latinos to hip-hop and their particular experiences. Panelists include:
Martha Diaz, hip-hop scholar-in-residence at the Schomburg Center for Research in Black Culture and director, Hip-Hop Education Center;
James Cruz, president, Bad Boy Management, and chief executive officer of Cruz Control Entertainment;
Charlie Chase, pioneering deejay, The Cold Crush Brothers;
Jorge "Pop Master Fabel" Pabon, vice president of Rock Steady Crew,
Frankie Cutlass, producer, deejay and artist.
DJ Eddie Cleverhand, who entertained at each of the previous conferences, will be spinning throughout the evening. The conference will conclude with a dance performance by the Hip-Hop Dance Conservatory.
This conference was made possible by financial support from the City College Office of the President and Office of the Dean of the Division of Interdisciplinary Studies at the Center for Worker Education.
Registration for the conference is required and begins at 4 p.m. Admission is $20 for the general public and $10 for college students with valid college I.D. People interested in attending can also register online athttp://ishiphophistory.eventbrite.com/#.
About the "Is Hip-Hop History?" Conference
The "Is Hip-Hop History?" Conference aims to create a platform for constructive dialogue between the intellectuals, artists, students, admirers, and detractors of the myriad expressive forms that constitute hip-hop. This bridge between constituents of hip-hop is intended to be one of celebration and serious contemplation. In the spirit of what the mighty Afrika Bambaataa termed, "Love, Peace, and Having Fun," we hope to leave a positive and indelible footprint.