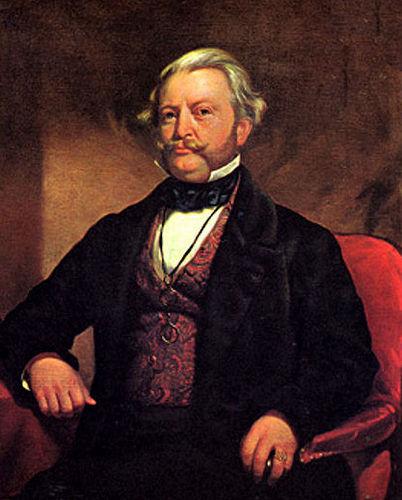 Portrait of Townsend Harris by James Bogle
Seiji Takeuchi, Chair of the Shimoda City Assembly, joins the long list of Japanese pilgrims that have traveled to The City College of New York to pay homage to its founder Townsend Harris when he visits the institution for the second time on July 17. Since 1986, top civic officials from Shimoda have made annual pilgrimages to City College to honor Harris.
After establishing what was then known as The Free Academy in 1847, Harris, a prominent New York merchant, went on to forge U.S.-Japan relations. He arrived in Shimoda on August 21, 1856 to open the first American consulate in Japan.
"As the first consul general there, he negotiated the treaty that is credited for opening the Japanese Empire to foreign trade and culture," said CCNY archivist Sydney Van Nort. "Owing to his goodwill, openness and honesty, Harris quickly gained the respect and affection of the Japanese people, and is revered there to this day."
Takeuchi's return following his first visit in 2016 reaffirms the close ties between City College and Shimoda City that were established thirty-two years ago, said Van Nort.  The delegation, joined by representatives of the Consulate-General of Japan in New York, the Japan Foundation, and the great-great grandniece of Townsend Harris, will attend a presentation by Van Nort on the life and career of Harris and view documents from the Townsend Harris Papers Collection in CCNY's Morris Raphael Cohen Library.
For more information on the Shimoda Delegation's visit to The City College of New York, please call the CCNY Archives at (212) 650-7609.
About The City College of New York
Since 1847, The City College of New York has provided a high quality and affordable education to generations of New Yorkers in a wide variety of disciplines. Today The Chronicle of Higher Education ranks CCNY #2 among public colleges with the greatest success in ensuring the social mobility of our student body; at the same time the Center for world University Rankings places it in the top 1.2% of universities worldwide in terms of academic excellence. More than 16,000 students pursue undergraduate and graduate degrees in eight professional schools and divisions, driven by significant funded research, creativity and scholarship. CCNY is as diverse, dynamic and visionary as New York City itself.  View CCNY Media Kit.