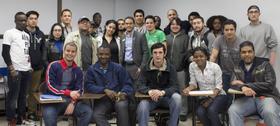 Grove School of Engineering and Hostos Community College students at a recent information session on joint degree programs in engineering.

According to the U.S. Bureau of Labor Statistics, demand for environmental engineers is expected to grow by 15 percent between 2012 and 2022; with demand for environmental engineering technicians expected to grow by 14 percent during the same period. This is faster than the average for all occupations.

Hostos Associate Professor Nieves Angulo, who helped secure the grants for this initiative and is a co-PI, called the new environmental engineering program a pathway to equal educational opportunity.

"This is really about expanding the horizon for our students, we are building two breakout rooms now, and our hope is that they will be ready for the fall," she said. "By offering web-based tutoring, we can save students time so they can concentrate on their classes, and we want that for them. We are very proud that this collaboration has improved our curriculum for the STEM fields."

"This articulation program will provide students in our environmental engineering program with a seamless transition to City College's earth system science and environmental engineering program," added Dr. Yasser Hassebo, associate professor in LaGuardia's math, engineering and computer science department and CILES project co-PI. "This will ensure that more of our graduates, many of whom are underserved, will pursue a degree and future career in the STEM field."

About The City College of New York
Since 1847, The City College of New York has provided low-cost, high-quality education for New Yorkers in a wide variety of disciplines. More than 16,000 students pursue undergraduate and graduate degrees in: the College of Liberal Arts and Sciences; the Bernard and Anne Spitzer School of Architecture; the School of Education; the Grove School of Engineering; the Sophie Davis School of Biomedical Education, and the Colin Powell School for Civic and Global Leadership. U.S. News, Princeton Review and Forbes all rank City College among the best colleges and universities in the United States.

About The Grove School of Engineering at CCNY
The Grove School of Engineering at The City College of New York is the only public engineering school within New York City. It offers Bachelors, Masters and Ph.D. degrees in seven fields: biomedical, chemical, civil, computer, electrical, and mechanical engineering and computer science. The School is recognized nationally for the excellence of its instructional and research programs and ranks among the most diverse engineering schools in the country.

About Hostos Community College
Eugenio María de Hostos Community College is an educational agent for change that has been transforming and improving the quality of life in the South Bronx and neighboring communities since 1968. It serves as a gateway to intellectual growth and socioeconomic mobility, as well as a point of departure for lifelong learning, success in professional careers, and transfer to advanced higher education programs. The College's unique "Student Success Coaching Unit" provides students with individualized guidance and exemplifies its emphasis on student support services.
 
Hostos offers 29 associate degree programs and five certificate programs that facilitate easy transfer to CUNY's four-year colleges or baccalaureate studies at other institutions. The College has an award-winning Division of Continuing Education & Workforce Development that offers professional development courses and certificate-bearing workforce training programs. Hostos is part of The City University of New York (CUNY), the nation's leading urban public university, which serves more than 480,000 students at 24 colleges.

About LaGuardia Community College
LaGuardia Community College located in Long Island City, Queens, was founded in 1971 as a bold experiment in opening the doors of higher education to all, and we proudly carry forward that legacy today. LaGuardia educates students through over 50 degree, certificate and continuing education programs, providing an inspiring place for students to achieve their dreams. Upon graduation, LaGuardia students' lives are transformed as family income increases 17%, and students transfer to four-year colleges at three times the national average. Part of the City University of New York (CUNY), LaGuardia is a nationally recognized leader among community colleges for boundary-breaking success educating underserved students. At LaGuardia we imagine new ideas, create new curriculum and pioneer programs to make our community and our country stronger. Visit www.laguardia.edu to learn more.
Media contacts:

City College of New York, Ellis Simon, 212-650-6460,  esimon@ccny.cuny.edu

Hostos Community College, Richard Pietras, 718-518-6513,  rpietras@hostos.cuny.edu

LaGuardia Community College, Randy Fader-Smith, (718) 482-5985,  Randyfs@lagcc.cuny.edu