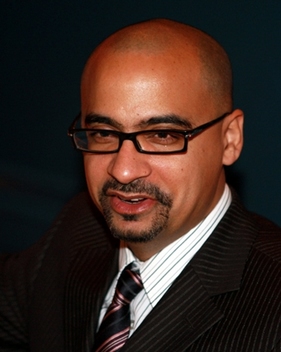 Pulitzer Prize winner to do book reading and signing March 18; Cuban blogger to participate in a dialogue March 21
The City College of New York hosts two prominent figures from the world of Hispanic arts and letters the week of March 18.
Pulitzer Prize winner and MacArthur Founation "Genius" Award winner Junot Díaz will present a book reading and signing 6 p.m. Monday, March 18, in the Great Hall, Shepard Hall.
Cuban blogger Yoani Sánchez, currently on her first visit to the United States, will participate in a dialogue with Dr. Carlos Riobó, chair of CCNY's Department of Foreign Languages and Literatures, 9:30 a.m. Thursday, March 21, in the Marian Anderson Theatre, Aaron Davis Hall. Dr. Ted Henken, associate professor and chair of the Black and Hispanic Studies Department at Baruch College, will serve as translator.
The events, which are free and open to the public, are presented by the CCNY Department of Foreign Languages and Literatures, as part of its Perspectives of the Hispanic World lecture series, and the Office of City College President Lisa S. Coico. The City College Center for Worker Education is co-sponsoring the event with Mr. Díaz.
About Junot Díaz
A native of Santo Domingo, Dominican Republican, who grew up in New Jersey, Mr. Díaz is an award-winning writer and novelist. He teaches creative writing at the Massachusetts Institute of Technology as the Rudge and Nancy Allen Professor of Writing and serves as fiction editor for "Boston Review."
The immigrant experience is a central theme of his writing. His youth was marked by enormous poverty. To put himself through Rutgers University he worked delivering pool tables, pumping gas, washing dishes and as a steel worker. A semi-autobiographical character called Yunior has been a recurring character in many of his stories.
Mr. Díaz is best known for "Drown," a collection of short stories, many written while he was an MFA student at Cornell University, published in 1996, and "The Brief Wondrous Life of Oscar Wao," which won the 2008 Pulitzer Prize for Fiction and National Book Critics Circle Award.
His latest book, "This is How You Lose Her," a collection of short stories, was released September 11, 2012. Of it, "New York Times" reviewer Leah Hager Cohen wrote: "He's so damn funny you might just fall out laughing as you read."
Mr. Díaz' short fiction has also appeared in "The New Yorker," "The Paris Review" and four editions of "The Best American Short Stories" anthologies. Besides the Pulitzer Prize and Critics Circle Award, his honors include a Guggenheim Fellowship, a MacArthur Fellowship, a Lila Acheson Wallace Reader's Digest Award, a National Endowment for the Arts Fellowship and the American Academy of Arts and Letters' Rome Prize. In addition, in 2010 he became the first Latino to serve on the Pulitzer Prize board of jurors.
About Yoani Sánchez
Yoani Sánchez is a Cuban blogger who has achieved international recognition for her critical portrayal of life in Cuba under its current government. Sánchez is best known for her blog, Generación Y (Generation Y), which is translated into 17 languages. She is a regular contributor to "The Huffington Post," "El País," "Foreign Policy" and CNN en Español.
In 2008, she received the Ortega y Gasset Prize for Digital Journalism; she was named one of the world's 100 most influential people by "Time" magazine; and one of the "10 Most Influential Latin American Intellectuals" by "Foreign Policy
 magazine.
In November 2009, President Obama applauded her efforts to "empower fellow Cubans to express themselves through the use of technology," and she received the Maria Moors Cabot Prize from Columbia University's School of Journalism.
In 2010, the International Press Institute named Sánchez a "World Press Freedom Hero," and she received a Prince Claus Award from the Netherlands' Prince Claus Fund.  This is her first trip to the United States.
On the Internet