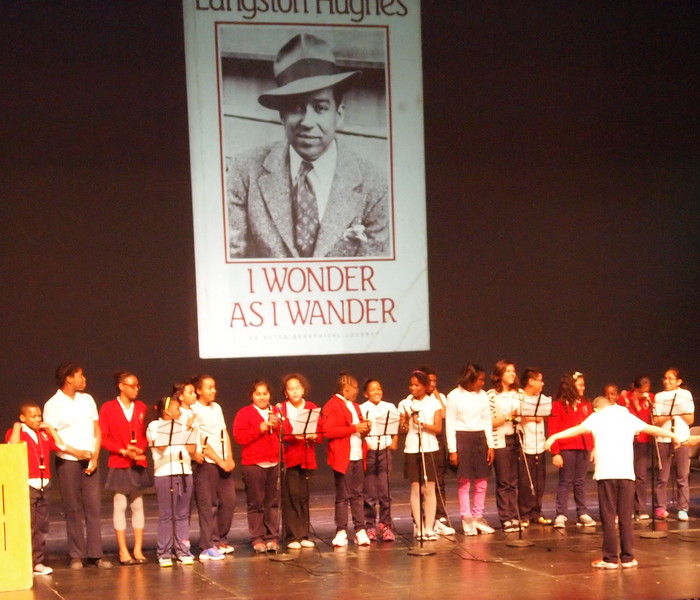 A 35-year tradition continues at The City College of New York Thursday, May 26, when 250 mostly local Harlem students, grades K through six, participate in the 2016 Langston Hughes Choral Speaking Festival.  The event runs 10 a.m. to 12 noon at the Aaron Davis Hall, Theater 'A.'
The young participants perform imaginative renditions of Hughes' poetry and fiction. Performances range from choral reading and dramatization to interpretive dance, musical tributes and original poetry or prose.
The festival was founded by the late Raymond R. Patterson (1929-2001), professor emeritus of English at City College and is supported by CCNY's Division of the Humanities and the Arts.
For more information, contact Chuck Frye, coordinator of the Langston Hughes Choral Speaking Festival, at (212) 650-7914 or email: lhcsf.ccny@gmail.com.
About The City College of New York
Since 1847, The City College of New York has provided low-cost, high-quality education for New Yorkers in a wide variety of disciplines. More than 15,000 students pursue undergraduate and graduate degrees in the College of Liberal Arts and Science; Bernard and Anne Spitzer School of Architecture; School of Education; Grove School of Engineering; Sophie Davis Biomedical Education/CUNY School of Medicine; and the Colin Powell School for Civic and Global Leadership. U.S. News, Princeton Review and Forbes all rank City College among the best colleges and universities in the United States.