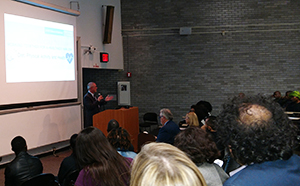 Community members working together for a healthier Harlem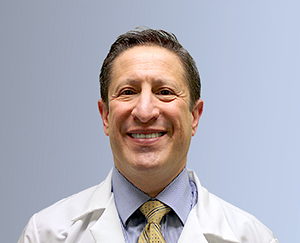 The Harlem community spoke and the CUNY School of Medicine at The City College of New York listened. Community members were asked if they'd like free health information sessions on topics of their choosing and the answer was a resounding YES! Thus the Mini-Medical school was born.
60 people showed up to the first Mini-Medical School event on Oct 18th to talk about diet, physical activity and health. The presentations were engaging as was the Q & A. Afterward, many attendees said they'd be back for more. In fact, they promised to bring a friend or family member the next time. Which is why an even larger crowd is expected at the second Mini-Medical School on Nov 15th when the topic will be Diabetes and Health: Management and Prevention.
Hazeezat Shittu, who leads the team of medical students behind the program, will MC the evening. The speaker will be Dr. Gilbert Brovar, the Medical Director of the St. Barnabas Hospital Diabetes Clinic and an Affiliate Associate Medical Professor in the Department of Clinical Medicine at the CUNY School of Medicine.
Don't miss this free event where you can learn how to actively take part in your and your family's healthcare on Wednesday Nov 15th from 5:30-7PM in the North Academic Center, Room 1/201 of CCNY. Mini-Medical School is open to all members of the Harlem Community. Light refreshments will be served.
About The City College of New York
Since 1847, The City College of New York has provided low-cost, high-quality education for New Yorkers in a wide variety of disciplines. Today more than 16,000 students pursue undergraduate and graduate degrees in eight professional schools and divisions, driven by significant funded research, creativity and scholarship. Now celebrating its 170th anniversary, CCNY is as diverse, dynamic and visionary as New York City itself.
View CCNY Media Kit
.
Rebecca Rivera
212.650-5310