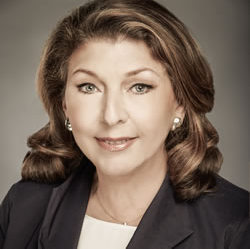 Communications guru Daisy Expósito-Ulla joins the American Advertising Federation (AAF) chapter at The City College of New York for a conversation on Oct. 25 about her dynamic, high-profile career at the cross sections of marketing and social equity. The event, 12:30 – 2 p.m. in Shepard Hall room 250, is part of City College's Lunch with Leaders Ad/PR Lecture Series and commemorates Hispanic Heritage Month. 
Expósito's talk is free and open to the public. Click here to register and receive complimentary admission.
 Expósito's marketing agency, d expósito & Partners, prides itself on producing work that takes progressive social equity and nationwide demographic changes into account while developing strategies and campaigns that are among the most outstanding of the last decade.
A "New American Agency" for a new America, the d expósito team considers itself "cultural warriors" looking to pioneer a future that builds on significant contributions from the influential Hispanic population in the years to come.
d expósito & Partners have earned numerous awards since their founding in 2005, including: Three ¡Bravo! PR top awards for AARP 2018 for the film Every step of the Way; The 2018 Media Event of the Year Award; and The 2018 Public Affairs Campaign of the Year Award. Earlier this year, Ms. Expósito was inducted into the AAF Advertising Hall of Fame.
For more information, please contact Jayson Alexander Swain, CCNY AAF treasurer/Public Affairs at jayson@jaysonalexanderswain.com or (646) 675.5976.
About The City College of New York
Since 1847, The City College of New York has provided a high quality and affordable education to generations of New Yorkers in a wide variety of disciplines. CCNY embraces its role at the forefront of social change. It is ranked #1 by the Harvard-based Opportunity Insights out of 369 selective public colleges in the United States on the overall mobility index. This measure reflects both access and outcomes, representing the likelihood that a student at CCNY can move up two or more income quintiles. In addition, the Center for World University Rankings places CCNY in the top 1.2% of universities worldwide in terms of academic excellence. More than 16,000 students pursue undergraduate and graduate degrees in eight professional schools and divisions, driven by significant funded research, creativity and scholarship. CCNY is as diverse, dynamic and visionary as New York City itself.  View CCNY Media Kit.