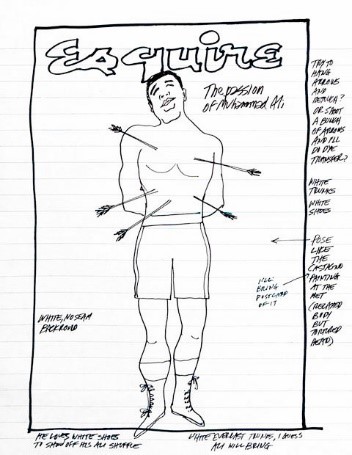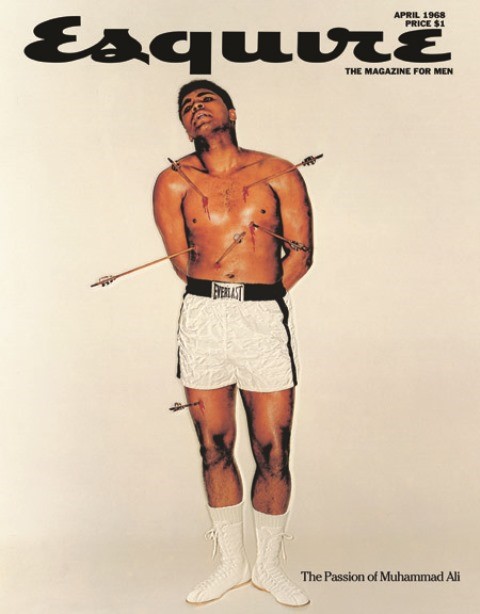 The work of groundbreaking art director George Lois will be on display at The City College of New York and celebrated with an opening reception on Tuesday, September 12. 
Lois, considered the original "Mad Man" of advertising, donated a portion of his archive, a collection reflecting 60 years of American culture and social evolution, to City College (CCNY) in 2016. He chose the college as the home of his archive in recognition of CCNY's media arts program and its history in helping talented students from diverse backgrounds succeed. This collection contains original layout sketches for 27 of the most iconic Esquire covers, which have never been available.
The exhibition of the collection will be celebrated with an opening reception and talk on September 12 in the college's Great Hall in Shepard Hall at 5:30 PM. Lois and the renowned photographer Platon will discuss their use of creativity to make jarring and prescient statements that address the issues of our times -civil rights, war, feminism, the role of art- at the crossroads of creativity, commerce and morality.
George Lois' Esquire covers, part of the permanent collection of MoMA, represent the visual face of "New Journalism." The unique archive at CCNY includes several Esquire covers, their draft forms, recording sessions, correspondences, and other materials. 
"These works open up the opaque world of the creative process in advertising," said City College's Dean of Humanities Erec Koch. "The collection's new home at CCNY introduces commercial art and the advertising profession to a student body that consists predominantly of historically underrepresented minorities." 
Lois also attended the former High School of Music and Art located on CCNY's campus. "What better place for my work to reside than here," George Lois said. "For me, I am coming home."
The opening reception and talk as well as the month-long exhibition are free and open to the public. Find out more
here
.
About The City College of New York
Since 1847, The City College of New York has provided low-cost, high-quality education for New Yorkers in a wide variety of disciplines. Today more than 16,000 students pursue undergraduate and graduate degrees in eight professional schools and divisions, driven by significant funded research, creativity and scholarship.  Now celebrating its 170th anniversary, CCNY is as diverse, dynamic and visionary as New York City itself.  View CCNY Media Kit.
City College is grateful to the Phillip and Edith Leonian Foundation and the 21st Century Foundation of The City College of New York for their support of students working on the George Lois Archive.