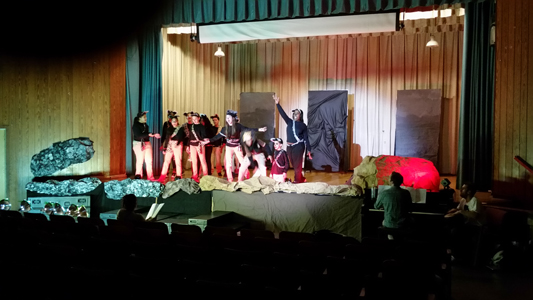 After three months of arduous preparation, PS 161 presents its community performance of The Lion King Jr. on Thursday, Dec. 10 at 6 p.m.
The performance is the culmination of the semester-long Fundamentals in Teaching Theater class that CCNY Educational Theatre Program Director Jennifer Katona teaches as a cornerstone of the M.S. Ed. degree curriculum. Thirty-eight PS 161 students who belong to the school's Drama Club participate in the production, which is also guided by 18 CCNY educational theatre graduate student directors.
The road to the final curtain began in September, when the students – under the tutelage of PS 161's Drama Club head Desiree Miller, arts education coordinator Tyler Beattie and Wanda Bernard, the Drama Club assistant and the show's prop master – learn the show's book, as well as basic acting and audition skills. Katona, who serves as artistic director of the entire production, cast the roles after an ensemble-based audition in early October.
"I could not be more proud of what both the student actors and graduate candidate directors have accomplished," said Katona. "Not only have they worked collaboratively to share a beautiful story with their PS 161 school and the Harlem community, but they also have grown in their respective artistic and pedagogical endeavors.
"Having 18 directors is a very difficult task and everyone rose to the occasion. I am very excited to share this show with everyone!"
The performance is preceded by a potluck dinner. For tickets and dinner reservations, go to http://www.ps161thelionkingjr.com/.
About The City College of New York
Since 1847, The City College of New York has provided low-cost, high-quality education for New Yorkers in a wide variety of disciplines. More than 16,000 students pursue undergraduate and graduate degrees in: the College of Liberal Arts and Sciences; the Bernard and Anne Spitzer School of Architecture; the School of Education; the Grove School of Engineering; the Sophie Davis School of Biomedical Education, and the Colin Powell School for Civic and Global Leadership. U.S. News, Princeton Review and Forbes all rank City College among the best colleges and universities in the United States.