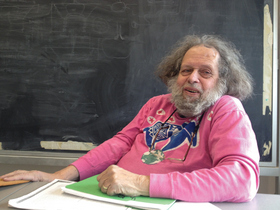 The City College community will gather with the friends and family of Marshall Berman Friday, November 22, to pay tribute to Professor Berman, who passed away September 11. The tribute will be held 4:30 to 6:30 p.m. in the Great Hall of Shepard Hall, 160 Convent Avenue, New York, and is free and open to the public.
Dr. Berman, a distinguished professor of political science in the Colin L. Powell School for Civic and Global Leadership at City College, was a highly regarded humanist, social theorist and public intellectual. The Bronx native had been a member of the City College faculty since 1967.
His best-known work, "All That's Solid Melts Into Air," published in 1982, has been translated into more than a dozen languages. His other books include "The Politics of Authenticity" (2000) and "On The Town: A Hundred Years of Spectacle in Times Square" (2006). Berman also served on the editorial board of "Dissent" magazine and contributed to "The New York Times Book Review," "Nation," "New Politics" and other periodicals.
Speakers at the tribute will include: Professor Berman's sons, Eli and Danny Berman; City College colleagues Dr. Joyce Gelb, professor emerita of political science, and Michael Sorkin, distinguished professor of architecture; students Jennifer Corby, Asaf Shamis and David Czyzyk, and two colleagues from "Dissent," Dr. Michael Walzer and Dr. Morris Dickstein, who is a distinguished professor of English at the Graduate Center, CUNY.
City College President Lisa S. Coico and Associate Professor of Political Science Mira Morgenstern will offer tributes via video. "Un Brindis Por Marshall Berman" ("A Toast to Marshall Berman"), a poem by Paraguayan writer Monserrat Álvarez, will be read in Spanish by Angelica Aquino and in English by Elizabeth Starcévcíc.
The program will also include a slide show about Professor Berman's extraordinary life and introductory and closing remarks by Dr. Vincent Boudreau, director of the Colin L. Powell Center for Leadership and Service. A reception will follow.
About The City College of New York
Since 1847, The City College of New York has provided low-cost, high-quality education for New Yorkers in a wide variety of disciplines. More than 16,000 students pursue undergraduate and graduate degrees in: the College of Liberal Arts and Sciences; the Bernard and Anne Spitzer School of Architecture; the School of Education; the Grove School of Engineering; the Sophie Davis School of Biomedical Education, and the Colin L. Powell School for Civic and Global Leadership. U.S. News, Princeton Review and Forbes all rank City College among the best colleges and universities in the United States.