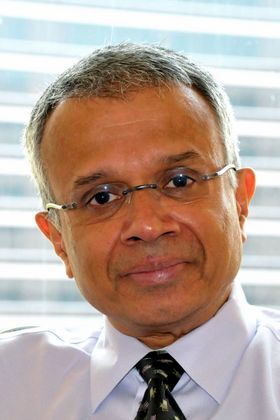 Joins network of academicians from 15 countries on six continents supported by a platform of interactive multimedia resources
Rajan Menon, who holds the Anne and Bernard Spitzer Chair in Political Science at The City College of New York's Colin Powell School for Civic and Global Leadership, has been appointed a Global Ethics Fellow by the Carnegie Council for Ethics in International Affairs.
One of six fellows named this year, he joins the Council'sGlobal Ethics Network, which includes scholars from Argentina, Australia, Brazil, Canada, China, Denmark, Ghana, India, Israel, Japan, Poland, Singapore, South Africa, Turkey and the United States.
"As a Carnegie Global Ethics Fellow, I intend to build a partnership between the Powell School and Carnegie Council that will enrich academic life on our campus and increase the Powell School's visibility and reach," said Professor Menon. This fits with Powell School Dean Vincent Boudreau's vision for making the school an entity whose influence is recognized globally, he added.
Planning is underway for an October 16 event at City College that will bring several Global Ethics Fellows to CCNY to present their work to students, faculty and the community. Peter Singer, Ira W. DeCamp Professor of Bioethics at Princeton University, will deliver the keynote speech.  
Beyond this event, Professors Menon will invite members of the network to visit City College to meet with students and faculty members when they come to New York. He hopes that Global Ethics Fellows will develop intellectual ties with City College faculty that could lead to collaborative research.
In addition, Professor Menon said he plans to draw on the network's resources for an undergraduate course he teaches called Ethical Dimensions of International Politics as well as for a book he is writing on humanitarian interventions that examines the use of military force in humanitarian crises.
As a member of the Global Ethics Network, Professor Menon and his students can access a platform to create and share interactive multimedia resources that explore the ethical dimensions of international affairs. The Network combines existing Carnegie Council resources with those of the scholars' institutions to encourage new ideas and foster lively debate on such subjects as human rights, conflict resolution, and environmental sustainability.
About The City College of New York
Since 1847, The City College of New York has provided low-cost, high-quality education for New Yorkers in a wide variety of disciplines. More than 16,000 students pursue undergraduate and graduate degrees in: the College of Liberal Arts and Sciences; the Bernard and Anne Spitzer School of Architecture; the School of Education; the Grove School of Engineering; the Sophie Davis School of Biomedical Education, and the Colin Powell School for Civic and Global Leadership. U.S. News, Princeton Review and Forbes all rank City College among the best colleges and universities in the United States.
About the Colin Powell School for Civic and Global Leadership
Inaugurated in 2013, the Colin Powell School for Civic and Global Leadership comprises the Departments of Anthropology, Economics, Political Science, Psychology and Sociology. It offers traditional undergraduate and graduate degree programs in these disciplines plus dynamic interdisciplinary programs in International Relations, International Studies, Latin American and Latino Studies, Mental Health Counseling, Pre-Law, Public Service Management and Women's Studies. The Colin Powell School is also home to the Skadden, Arps Honors Program for Legal Studies, the CUNY Dominican Studies Institute and the CUNY Ph.D. program in Clinical Psychology. Nearly one third of all City College degrees are awarded by the Colin Powell School, which builds upon CCNY's exceptionally strong tradition in the social sciences.