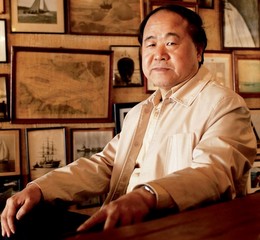 Nobel Prize-winning author Mo Yan will make history when he delivers the 2014 Samuel Rudin Distinguished Visiting Scholar Lecture at The City College of New York, Monday, November 10, at 5:30 p.m. His lecture in the Great Hall, entitled "My Story," will be entirely in Mandarin Chinese with simultaneous translation in English. It will be the first Rudin Lecture in a foreign language since the program began, in 1996.
Mo Yan will receive an honorary degree from City College before his talk, which is free and open to the public. Seating is limited and on a first-come, first-served basis. To register, visit our website or RSVP by calling 212-650-5315 (leave message) or via email at events@ccny.cuny.edu.
From Shandong Province, China, Mo Yan is a prolific writer hailed for giving voice to a literature that transcends political, social, and temporal boundaries to affirm a universal humanism. He has published 11 novels and more than 100 novellas and short stories, as well as essays and scripts. His works have been translated into more 20 languages and adapted for film, television and stage.  
His honors include the Kiriyama Prize (2005), the Fukuoka Asian Culture Prize (2006), the Newman Prize for Chinese Literature (2009) and the Mao Dun Literature Prize (2011). Mo Yan won the Nobel Prize for Literature in 2012 and cited by the Swedish Academy for his "hallucinatory realism merging folk tales, history and the contemporary."
Previous Rudin Scholars have included former CBS News anchor Walter Cronkite; former Congresswoman Patricia S. Schroeder; authors Walter Mosley, '91MA and Frank McCourt; former NBC News anchor Tom Brokaw and filmmaker Ric Burns.
About The Rudin Lecture Program
The Samuel Rudin Distinguished Visiting Scholars Program, named for Samuel Rudin, the civic and philanthropic leader who graduated from CCNY in 1918, was initiated in 1996. Supported by a grant from The May and Samuel Rudin Family Foundation, Inc., it provides an opportunity for members of the City College community to interact with outstanding scholars, civic and business leaders, thereby enriching the educational experience on campus. The program is also intended to foster communication in the academic community of New York City.
About The City College of New York
Since 1847, The City College of New York has provided low-cost, high-quality education for New Yorkers in a wide variety of disciplines. More than 16,000 students pursue undergraduate and graduate degrees in: the College of Liberal Arts and Sciences; the Bernard and Anne Spitzer School of Architecture; the School of Education; the Grove School of Engineering; the Sophie Davis School of Biomedical Education, and the Colin Powell School for Civic and Global Leadership. U.S. News, Princeton Review and Forbes all rank City College among the best colleges and universities in the United States.