The Moxie Foundation's new gift to CCNY is designed to help students realize their capability to create significant, positive change in the world.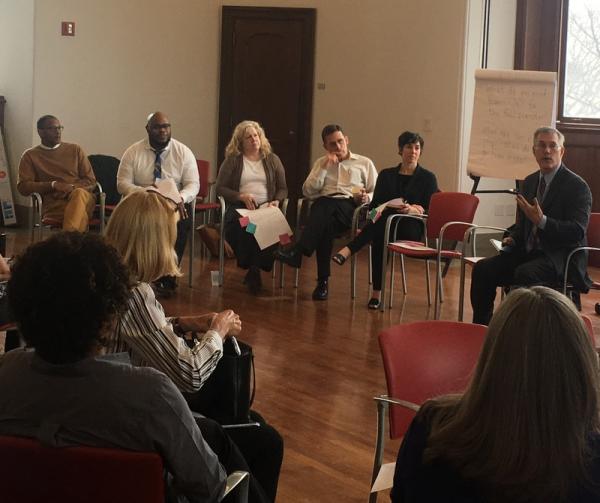 CCNY President Vince Boudreau [right] hails the Moxie Foundation's vision of higher education as "utterly progressive, deeply humanistic" and in tune with the college's historic mission.
The City College of New York is pleased to announce a major gift from the Moxie Foundation that will strengthen the College's capacity to prepare students for creative problem solving in the 21st century.  The $2.73 Million gift will launch the Moxie Initiative, designed to support outside of the box thinking, experiential learning, and academic innovation throughout every discipline at the College. The gift's vision is that every student in every major will realize her or his capability to create significant, positive change in the world.
"One of my fondest ambitions for CCNY is for our work to become more fully and deeply engaged with and responsive to the needs of our society, particularly those needs one often finds in neighborhoods around our Harlem campus," said President Vince Boudreau. "The Moxie Foundation gift provides us with the resources and encouragement to take some big steps in that direction. The Moxie Foundation's vision of what higher education should be is utterly progressive, deeply humanistic, and entirely in tune with the historic mission of our great college."
The Moxie Initiative will support faculty, staff, and students through several new programs designed to promote engaged, cross-disciplinary approaches to teaching and research; and to enable new courses within every major that utilize hands-on, problem based learning to teach critical competencies for effective change-making.
"The world is changing rapidly. City College students must be prepared to lead change in an economy of jobs that don't yet exist. It is critical that everyone understand they possess a level of creativity and ingenuity – an entrepreneurial spirit that they can tap into to succeed in any endeavor, career or industry," added Irwin Zahn, the Moxie Foundation Founder and a 1948 CCNY alumnus.  "We believe deeply in the power of collaboration and innovation, and we are delighted to support President Boudreau's vision for the future of this incredible institution."
The Moxie Foundation has been a significant supporter of City College since it helped establish the Zahn Innovation Center, an on-campus incubator, in 2012. This new gift will further and build upon the work of the Zahn Innovation Center by expanding the spirit of creativity and innovation on a campus-wide scale. 
About the Moxie Foundation
Established in 1998, the Moxie Foundation is a family foundation based in San Diego, California. The Foundation is dedicated to enriching communities and empowering changemakers through the spirit of innovation. It works closely with partner organizations dedicated to advancing education, the environment, health and international development. For more information visit moxiefoundation.org.
About The City College of New York
Since 1847, The City College of New York has provided a high quality and affordable education to generations of New Yorkers in a wide variety of disciplines. Today The Chronicle of Higher Education ranks CCNY #2 among public colleges with the greatest success in ensuring the social mobility of our student body; at the same time the Center for world University Rankings places it in the top 1.2% of universities worldwide in terms of academic excellence. More than 16,000 students pursue undergraduate and graduate degrees in eight professional schools and divisions, driven by significant funded research, creativity and scholarship. CCNY is as diverse, dynamic and visionary as New York City itself.  View CCNY Media Kit.