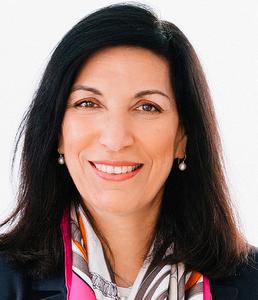 Neurogeneticist Huda Zoghbi speaks at CCNY on April 7.
Dr. Huda Y. Zoghbi, a renowned neurogeneticist from Baylor College of Medicine, presents this year's Louis Levine-Gabriella de Beer Lecture in Genetics at The City College of New York on Thursday, April 7. Her talk, "The Story of Rett Syndrome and the Insight it Provides into Neuropsychiatric Disorders" begins at 5 p.m. in The Great Hall. It is free and open to the public.
Widely respected globally, Zoghbi has made many seminal discoveries in neurological disease research.  Her interests range from neuro-development to neurodegeneration. She is the founding director of the Jan and Dan Duncan Neurological Research Institute at Texas Children's Hospital.
In addition to her position as the Ralph D. Feigin Professor of Pediatrics, Molecular and Human Genetics, Neurology and Neuroscience at Baylor, Zoghbi is an Investigator with the Howard Hughes Medical Institute.   
The lecture is presented by City College President Lisa S. Coico and The City College Fund. To reserve a seat call (212) 650-7192, or email cly@citycollegefund.org .
About the Louis Levine-Gabriella de beer Lecture in Genetics
The Louis Levine-Gabriella de Beer Lecture in Genetics was established by Gabriella de Beer in memory of her husband, Professor Louis Levine. A graduate of City College, he earned his PhD in population genetics under the late great evolutionary geneticist Theodosius Dobzhansky at Columbia University. Professor Levine's research centered on population studies of Drosophila and behavior genetics of mice. Human genetics and forensic genetics were among other areas to which he was devoted. Professor Levine taught in the Department of Biology and in the Sophie Davis School of Biomedical Education, participated in bi-national research studies in Mexico, was Visiting Professor at the Technicon (the Israel Institute of Technology) in Israel, and in later years served as a consultant and expert witness in criminal cases involving DNA evidence. The aim of these annual lectures is to perpetuate Professor Louis Levine's lifelong interest in the ever-expanding field of genetics.

About The City College of New York
Since 1847, The City College of New York has provided low-cost, high-quality education for New Yorkers in a wide variety of disciplines. More than 15,000 students pursue undergraduate and graduate degrees in the College of Liberal Arts and Science; Bernard and Anne Spitzer School of Architecture; School of Education; Grove School of Engineering; Sophie Davis Biomedical Education/CUNY School of Medicine; and the Colin Powell School for Civic and Global Leadership. U.S. News, Princeton Review and Forbes all rank City College among the best colleges and universities in the United States.