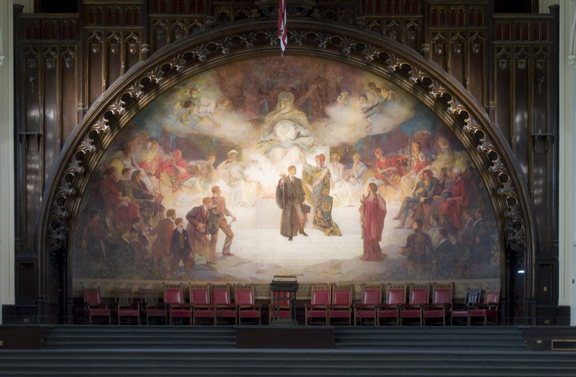 "The Graduate," the Edwin Howland Blashfield mural that adorns the stage of City College's Great Hall, is featured in a new book about the painter to be released September 28.  In addition to a write-up about the mural, which was painted on The Great Hall's curved front wall, a color photo of the painting appears both inside and on the book's rear jacket.
"The Great Hall mural is considered one of Blashfield's major works," says Mina Rieur Weiner, editor and one of four writers who contributed to "Edwin Howland  Blashfield: Master American Muralist," W.W. Norton 2009. "It was done at the height of his power and combines many of his oft-used techniques."
Among the key features she cites are the outlining of characters, the combining of real and symbolic figures and the dramatic use of light and dark.  "Even if you don't know who the characters are, the painting conveys a sense of awe and elevates 'the graduate,'" she says.  "It's very well suited to this building (Shepard Hall)."
Over a 25-year period that began in 1892, Edwin Howland Blashfield, whom "The New York Times" dubbed the "dean of American mural painters," painted murals in more than 40 locations around the country.  His work can be seen in state capitals in Minnesota, Iowa and Wisconsin and on the ceiling of the Library of Congress.
"The Graduate" is one of only two Blashfield murals in New York City; the other is in the Appellate Court House on the corner of Madison Avenue and E. 25th Street.  In addition, the only other college or university with a Blashfield mural is the Massachusetts Institute of Technology.
It's a sentimental favorite of Ms. Weiner's, whose mother was a member of CCNY's Class of 1933.  An image of the mural serves as the screen saver on her computer.
Painting "The Graduate" gave Blashfield an opportunity to work again with architect George Post, who had given him his first mural commission in 1892 for the World Columbian Exposition in Chicago, noted Ms. Weiner.  
"Blashfield believed the architect established the theme for a building and he had to decorate in a way that was suitable to the architect's vision.  Post designed the Great Hall as a cathedral to enlightenment, and that is the theme of Blashfield's mural."
She will give a talk about the mural during an architectural tour of CCNY and the surrounding neighborhood that she will conduct on September 25 for the Institute of Classical Architecture and Classical America.  CCNY Professors of Architecture Peter Gisolfi and Marta Gutman will lead the tour.  Information about the tour is available on the Institute's website.
MEDIA CONTACT