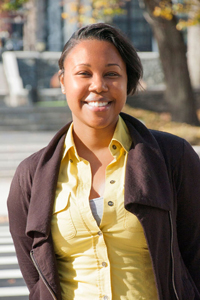 Two NOAA-CREST graduate students have been cited for their research.
Equisha Glenn, who recently won the NOAA STAR fellowship, published her article, "Detection of recent regional sea surface temperature warming in the Caribbean and surrounding region," in Geophysical Research Letters, a publication of the American Geophysical Union. The article was also featured as a "Research Spotlight" in Earth and Space Science News.
Glenn, who earned her B.E. in Earth Systems Science and Environmental Engineering from CCNY, started her career with NOAA-CREST as an undergraduate. She has since obtained two graduate degrees as a research fellow with CREST and with the Earth Science and Environmental Sustainability Graduate Initiative program. She will start her Ph.D. studies in 2016.
Her advisors are Jorge E. González of CCNY, and Thomas M. Smith and Daniel Comarazamy of NOAA.
Doctoral student Chelia Benavides-Cullen, a NOAA graduate researcher, won the best poster award at the SHPE 2015 conference for "A Multistage Multiscale Technique for the Mapping of Rain-Induced Shallow Landslide Slope Inestability." Hers was one of six award winners out of 100 poster entries, and she was invited to the High Achiever's Breakfast.
Benavides-Cullen graduated with her MS degree in earth and environmental sciences as a NOAA-CREST fellow. Her dissertation proposes a novel early shallow landslide susceptibility warning system that utilizes cutting-edge remote sensing and modeling techniques. In addition, it incorporates satellite derived parameters that have not been previously utilized in landslide susceptibility systems at large scales.
Her advisors are Reza Khanbilvardi of CCNY and Pedro Restrepo of NOAA.
About The City College of New York
Since 1847, The City College of New York has provided low-cost, high-quality education for New Yorkers in a wide variety of disciplines. More than 16,000 students pursue undergraduate and graduate degrees in: the College of Liberal Arts and Sciences; the Bernard and Anne Spitzer School of Architecture; the School of Education; the Grove School of Engineering; the Sophie Davis School of Biomedical Education, and the Colin Powell School for Civic and Global Leadership. U.S. News, Princeton Review and Forbes all rank City College among the best colleges and universities in the United States.