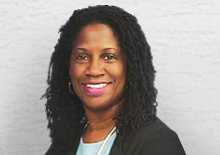 The Sophie Davis School of Biomedical Education's 40th commencement ceremony for the Physician Assistant Program at Harlem Hospital Center will be held 1 p.m. Thursday, January 30, in The Great Hall, Shepard Hall, on The City College of New York campus. The Class of 2014 has 28 students 
Denise C. Soares, R.N., M.A., senior vice president, Generations +/Northern Manhattan Health Network, and executive director, Harlem Hospital Center and Renaissance Health Care Network, will deliver the commencement address. City College President Lisa S. Coico will introduce her.
Bing Shao, '14, will deliver the class address. Dr. Maurizio Trevisan, M.D., provost of City College and dean of the Sophie Davis School, will offer greetings. Maurice Wright, M.D., program medical director and medical director, Harlem Hospital Center, will administer the Oath of Professional Practice. Theresa Horvath, assistant dean of the Sophie Davis School and director of the Physician Assistant Program, will offer closing remarks.