Third-year graduate architecture students Michele Flournoy, left, and Tiffany Kimmel on site in January reviewing plans for the Yantaló Hospital Volunteer House in northern Peru.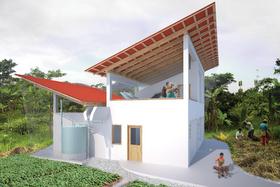 Rendering of the Yantaló Hospital Volunteer House showing the butterfly roofing system, which collects rainwater to be used for bathing and laundry.
Visiting volunteers working at a hospital in rural Peru will soon have an environmentally friendly residence to stay at thanks, in part to the efforts of two graduate students in City College's Bernard and Anne Spitzer School of Architecture. The Yantaló Volunteer House, which is affiliated with the Yantaló Peru Foundation, is expected to open later this year.

Third-year graduate architecture students Michele Flournoy and Tiffany Kimmel, designed the roofing system for the structure as an independent study project during the fall 2013 semester with Professor Christian Volkmann serving as faculty advisor. In January, they traveled to the site to serve as construction volunteers and meeting with the contractors who will install the roof.

"We took the design from schematics to actual construction drawings," said Ms. Flournoy, a native of San Diego who studied marketing at NYU before deciding to become an architect. "Professor Volkmann helped us address the details of design and the logistics of construction."

During the summer prior to the independent study project, several of their classmates participated in the schematic phase: Todd Hansmann, Becca Dorff, Frances Felske, Hillary Zhao, Claire Ross, Mike Fiorelli, Corwin Carroll, Paola Martinez, Christina Hernandez, Ben Tulman, Ronald Martin, Kasia Wilusz and Alvaro Muñoz. Associate Professor Dominick Pilla provided structural engineering consultation services.
 
"Michele and Tiffany's approach to the project has both a strong design and social agenda," added Professor Volkmann. "They designed and detailed with me a beautiful two-story structure with a butterfly-shaped rood that can collect rainwater for domestic and local farming purposes."

The Yantaló hospital is located in northern Peru, two hours from the nearest airport. Its location is within a rainforest so it receives, on average, more than 1.3 meters of rain annually. Ms. Flournoy had made several trips to the site to work as a volunteer before beginning the independent study project, which applied skills and knowledge gained in a Construction Technology class she and Ms. Kimmel took earlier with Professor Volkmann.

The split roof system they designed has two overlapping sides set at different heights that slope inward to a concrete central gutter that feed tanks that store water used for bathing and laundry. For its construction, Ms. Flournoy and Ms. Kimmel specified local woods and organic corrugated roofing sheets produced by Onduline, a French building materials manufacturer with a distributor in Lima, the capital of Peru.

The roofing sheets are designed to provide structural rigidity, and they resemble terra cotta roofing tiles, i.e. Spanish tile, which is popular in Latin America. However, they are less susceptible to breakage during earthquakes, said Ms. Kimmel, who studied interior design at Virginia Commonwealth University and hails from Hot Springs, Va.

Ms. Flournoy and Ms. Kimmel went to the site in January mainly to meet with local contractors and review design specifications and progress on the roof. They spoke with a local wood miller who is providing rough-cut lumber and created a template for the carpenter who is cutting rafters and joists to their specifications. However, because they visited the site during the rainy season, they were unable to see roof construction commence.

Instead, they spent much of their time helping to build formwork for the concrete pour for the building's second floor slab. The structure's center beam will function as the gutter that brings rainwater to the storage tanks.

About The City College of New York
Since 1847, The City College of New York has provided low-cost, high-quality education for New Yorkers in a wide variety of disciplines. More than 16,000 students pursue undergraduate and graduate degrees in: the College of Liberal Arts and Sciences; the Bernard and Anne Spitzer School of Architecture; the School of Education; the Grove School of Engineering; the Sophie Davis School of Biomedical Education, and the Colin Powell School for Civic and Global Leadership. U.S. News, Princeton Review and Forbes all rank City College among the best colleges and universities in the United States.

About the Bernard and Anne Spitzer School of Architecture
The Bernard and Anne Spitzer School of Architecture at The City College of New York is the only public school of architecture in New York City. It offers programs in Architecture, Urban Landscape Architecture, and Urban Design, and has a student population of approximately 350. Its emphasis on the urban situation as a generator of ideas about the appropriateness of programs and forms in the city landscape is one of the school's most original aspects. Architecture studios currently pursue programs that are civic, institutional, residential, and commercial allowing the student an in-depth experience of these project types as they are projected into the urban landscape of New York City.
MEDIA CONTACT