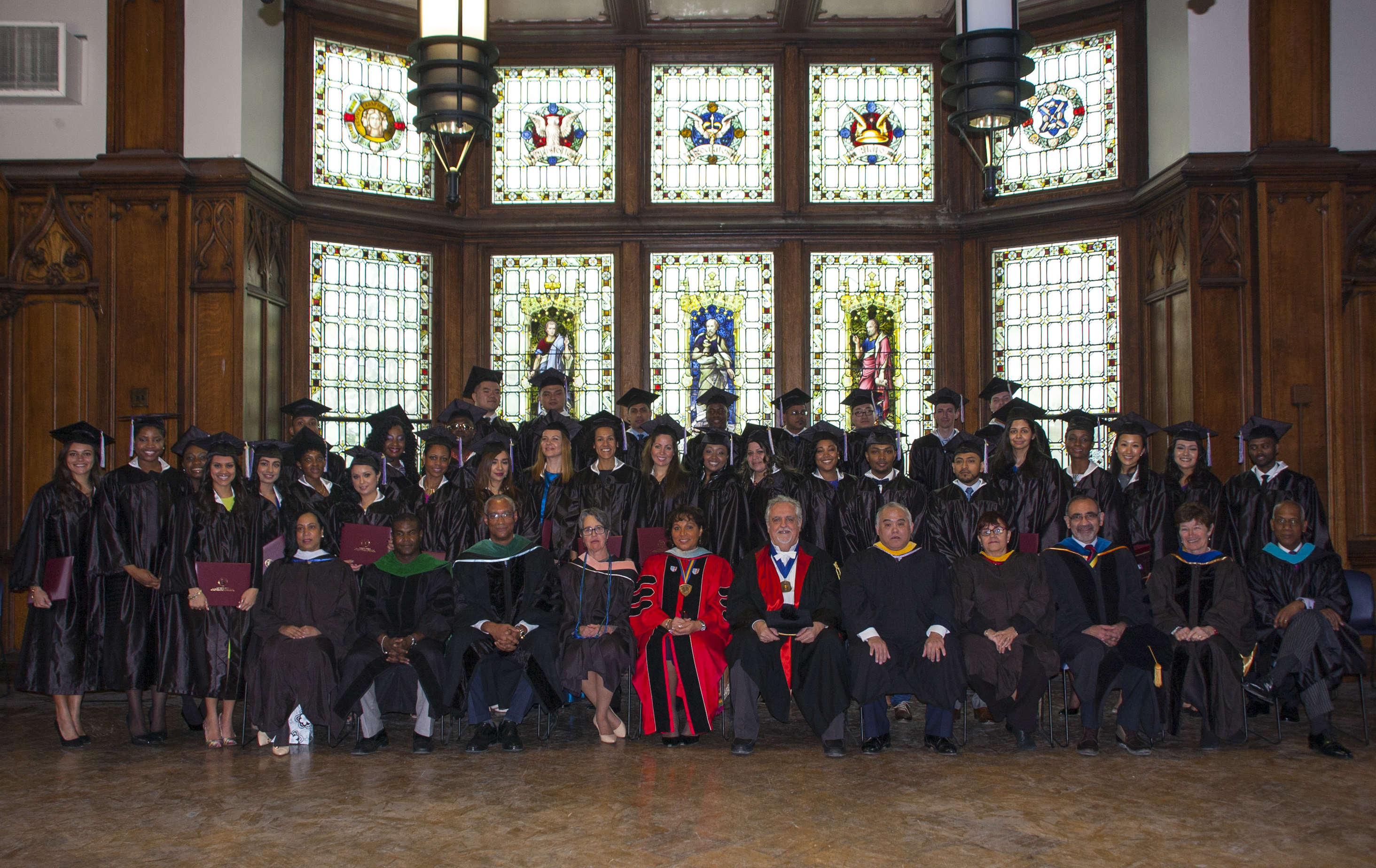 Thirty-three newly-minted physician assistants received their diplomas at the Sophie Davis School of Biomedical Education Physician Assistant Program at Harlem Hospital Center's 42nd Commencement Ceremony on Jan. 29.
During the ceremony in The Great Hall of Shepard Hall on the CCNY campus, six graduating students received recognition for their achievements: Nichole Wallace (Dean's Award); Hannah Chang and Andrey Frenkel (Director's Award); Nargiza Khikmatova (Clinical Year Excellence Award); Flora Williams (Didactic Year Excellence Award); and Talaya Centeno (Research Writing Award).
Chang also gave the class address.
Keynote speaker Dawn Morton-Rias, president and CEO of the National Commission on Certification of Physician Assistants, shared her own career journey and words of encouragement with the Class of 2016 as they begin their careers of service.
According to the U.S. Department of Labor's Bureau of Labor Statistics, physician assistant employment is projected to grow 38 percent in the current decade, attributing the faster than average projection to increased demand for healthcare services from a growing and aging population, widespread chronic disease, and shortage of physicians.
Physician assistants practice medicine on a team under the supervision of physicians and surgeons. They examine patients, diagnose injuries and illnesses, and provide treatment.
About The City College of New York
Since 1847, The City College of New York has provided low-cost, high-quality education for New Yorkers in a wide variety of disciplines. More than 15,000 students pursue undergraduate and graduate degrees in the College of Liberal Arts and Science; Bernard and Anne Spitzer School of Architecture; School of Education; Grove School of Engineering; Sophie Davis Biomedical Education/CUNY School of Medicine; and the Colin Powell School for Civic and Global Leadership. U.S. News, Princeton Review and Forbes all rank City College among the best colleges and universities in the United States.