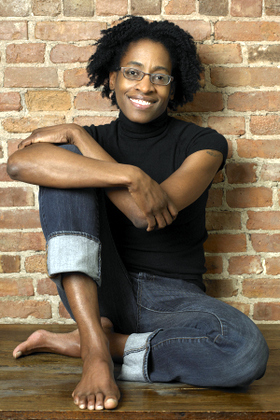 Award-winning author Jacqueline Woodson to be guest speaker
The First Annual Poetry Outreach Conference, sponsored by The City College of New York School of Education and CCNY's Poetry Outreach Center, will be held 8:30 a.m. to 3 p.m. Saturday, June 8, in the City College Faculty Dining Room, third floor, North Academic Center, on the CCNY campus. Award-winning author Jacqueline Woodson will be the keynote speaker.
In addition to Ms. Woodson's keynote address, the conference features workshops on teaching poetry for K-12 teachers and readings by high school students of award-winning poems from the citywide 2013 Poetry Outreach Competition. Registration is free to NYC Department of Education teachers; those who attend the event will receive professional development credit. Complimentary breakfast and lunch are included for conference participants.
The conference aims to get more teachers at all levels – elementary, middle school and high school – to incorporate poetry into their curricula, explained Pamela Laskin, director of the Poetry Outreach Center. "Using poetry in the classroom is critical to developing literacy because of its focus on language, form, structure and voice."
Ms. Laskin, who is also a lecturer in CCNY's English Department, and Dr. Betsy Rorschach, director of the City College School of Education graduate program in secondary English education, received a City College SEED grant to support the conference and other poetry-related activities. SEED grants, provided by the Office of City College President Lisa S. Coico and Provost Maurizio Trevisan, advance interdisciplinary collaborative research by members of City College's faculty.
The Poetry Outreach Center, now in its 42nd year of operation, sponsors the City College Poetry Festival. Dubbed "the Woodstock of the Spoken Word," the festival has become one of the longest continually running annual poetry festivals in the United States. In addition, it is the only such event at which schoolchildren read on the same program as professional poets.
Teachers from the Poetry Outreach Center have mentored many of the children who participate in the festival. They visit public school classrooms in diverse neighborhoods and foster a love of the reading and writing of poetry.
About the Keynote Speaker
Jacqueline Woodson is the author of numerous books for children and young adults, including "From the Notebooks of Melanin Sun," "Each Kindness," "Miracle's Boys," "After Tupac and D Foster," "If You Come Softly" and "Beneath A Meth Moon." Her awards include two National Book Award honors, the 2013 Jane Addams Peace Award, three Newbery Honors, the 2013 Charlotte Zolotow Medal, a Los Angeles Times Book Prize and the Margaret A. Edwards Lifetime Achievement Award. In addition, she is the 2013 U.S. nominee for the Hans Christian Andersen Medal. She lives with her family in Brooklyn.
On the Internet