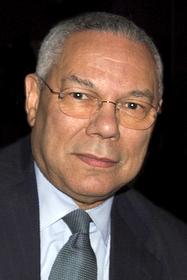 General Colin L. Powell, USA (Ret), '58
General Powell contributes $5 million to school at City College
The Colin L. Powell School for Civic and Global Leadership at the City College of New York announced its new board of visitors November 5. The board, consisting of 26 prominent Americans, will hold its inaugural meeting later this month. Chairing the board is General Colin L. Powell USA (Ret), CCNY '58, who donated a lead gift of $5 million to the campaign for the Powell School, and has been the driving force behind the campaign, which has raised $44 million to date.

The Powell School's Board of Visitors will help support the school's strategic direction and philanthropic initiatives. General Powell, who was instrumental in recruiting members to the board, expressed gratitude at their willingness to serve.  

"We all recognize the vital need to educate and support new leaders, particularly from populations so strongly represented at CCNY – new Americans, people without great financial resources and young men and women from minority populations. I'm grateful that so many of my friends agreed to help secure the future of the Powell School."
Funds from the campaign for the Powell School strengthen academic programs; enhance recruitment and retention of top-quality faculty, students, and staff; and improve campus facilities and services. Through its scholarships and paid internships, the endowment also helps students reduce or eliminate their need to work extra jobs.

General Powell's $5 million gift brings his total giving to his alma mater to nearly $7 million. "We thank General Powell for his remarkable gift and for his generosity in bringing together such accomplished individuals to offer their expertise and insight on behalf of our students and school," said Jeffrey Rosen, interim dean of the Powell School.
The following prominent Americans comprise the Board of Visitors:

Madeleine K. Albright, former U.S. secretary of state
James A. Baker, III, former U.S. secretary of state
Robert B. Catell, chairman, AERTC, Stony Brook University
Martin Cohen, co-chairman and co-chief executive officer, Cohen & Steers Inc. 
Lisa S. Coico, president, the City College of New York
Fulvio M. Dobrich, president and chief executive officer, Galileo Asset Management LLC
Kenneth M. Duberstein, chairman and chief executive officer, the Duberstein Group Inc.
Harold M. Evans, editor-at-large, Thomson Reuters
Vartan Gregorian, president, Carnegie Corporation of New York
Vernon E. Jordan, Jr., senior managing director, Lazard Freres & Co. LLC
Henry A. Kissinger, former U.S. secretary of state
Richard M. Krasno, president, William R. Kenan, Jr. Charitable Trust
Jeffrey T. Leeds, president and co-founder, Leeds Equity
Colin L. Powell (chair), former U.S. secretary of state
Linda Powell, actress
Lisa Quiroz, senior vice president, Time Warner Inc.
David M. Rubenstein, co-founder, The Carlyle Group
Jack Rudin, May and Samuel Rudin Family Foundation Inc.
Jin Roy Ryu, chairman and chief executive officer, Poongsan Corp. and Poongsan Group
Stephen Schwarzman, chairman and chief executive officer, The Blackstone Group
Sy Sternberg, retired chairman and chief executive officer, New York Life Insurance Co.
Linda Kaplan Thaler, chair, Publicis Kaplan Thaler
Charles B. Wang, owner, New York Islanders
Beatrice Welters, philanthropist
Elie Wiesel, Nobel Peace laureate
Fareed Zakaria, editor-at-large, Time Inc.

The City University of New York Board of Trustees established the Powell School on April 29, 2013. The school is home to City College's Departments of Anthropology, Economics, Political Science, Psychology, and Sociology. It also houses the Graduate Center, CUNY, Ph.D. program in clinical psychology and the CUNY Dominican Studies Institute.
The Powell School offers a wide variety of traditional and interdisciplinary undergraduate and graduate degrees, and its students earn nearly one-third of all degrees awarded at City College. The hallmark values of service and leadership permeate every aspect of the school's work and animate City College's unflagging and historic commitment to access and excellence.

About The City College of New York
Since 1847, The City College of New York has provided low-cost, high-quality education for New Yorkers in a wide variety of disciplines. More than 16,000 students pursue undergraduate and graduate degrees in the College of Liberal Arts and Sciences; the Bernard and Anne Spitzer School of Architecture; the School of Education; the Grove School of Engineering; the Sophie Davis School of Biomedical Education, and the Colin L. Powell School for Civic and Global Leadership.  
Set on a striking, 35-acre hilltop campus in upper Manhattan, CCNY has produced more Nobel laureates than any other public institution in the United States. The College has been touted as one of "America's Top Colleges" by Forbes, one of the "Best Colleges in the United States" as well as one of the "Best Value Colleges" by the Princeton Review, and ranks among U.S. News & World Report's top regional universities.