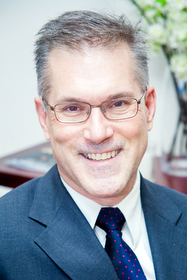 Dr. Vincent Boudreau is the first permanent dean of the Colin Powell School for Civic and Global Leadership at The City College of New York. The CUNY Board of Trustees approved his appointment at its January 27 meeting. Dr. Jeffrey Rosen, a professor of psychology, had been serving as interim dean since the school's inauguration in April 2013. 
"Vince Boudreau has a strong history of leadership and administrative experience that began almost immediately after he arrived at City College as a faculty member more than 20 years ago," said City College President Lisa S. Coico. "His long connection to the college and keen ability to conceptualize, construct, and cultivate academic programs are valuable assets to the Colin Powell School for Civic and Global Leadership and our students."
Dr. Boudreau, 51, a professor of political science at City College, was director of CCNY's Colin L. Powell Center for Leadership and Service since 2009 and its predecessor, the Colin L. Powell Center for Policy Studies, from 2002 to 2009. Working closely with the center's founder, Gen. Colin L. Powell (USA) Ret., '58, he led the development of several leadership training and community engagement initiatives that advanced City College's historic mission of access and excellence.
City College established the Colin Powell School for Civic and Global Leadership in 2013 by merging the resources of the Colin Powell Center with the Division of Social Sciences. This represented the natural culmination of a growth trajectory to extend the center's effective student success approaches and engaged scholarship activities throughout the school. As dean, Dr. Boudreau is continuing to expand these initiatives and others and to connect the school more deeply with the larger community.
A member of the City College political science department since 1991, Dr. Boudreau served earlier as deputy dean of social sciences, chair of political science and director of City College's international relations master's program and international studies bachelor's program.
Dr. Boudreau, who has spent his entire professional career at City College, received his PhD from Cornell University in 1991. His scholarship focuses on Southeast Asia politics, the politics of protest, state repression and collective violence.
He is the author of "Resisting Dictatorship: Repression and Protest in Southeast Asia" (Cambridge University Press, 2004) and "Grass Roots and Cadre in the Protest Movement (Ateneo De Manila Univ Press, 2012) and co-author of "Cyber Infrastructure Protection, Volume II" (U.S. Army War College Press, 2013). In addition, he serves on the editorial boards of two journals: "Comparative Politics" and "Kasarinlan."
About The City College of New York
Since 1847, The City College of New York has provided low-cost, high-quality education for New Yorkers in a wide variety of disciplines. More than 16,000 students pursue undergraduate and graduate degrees in: the College of Liberal Arts and Sciences; the Bernard and Anne Spitzer School of Architecture; the School of Education; the Grove School of Engineering; the Sophie Davis School of Biomedical Education, and the Colin Powell School for Civic and Global Leadership. U.S. News, Princeton Review and Forbes all rank City College among the best colleges and universities in the United States.
About the Colin Powell School for Civic and Global Leadership
Inaugurated in 2013, the Colin Powell School for Civic and Global Leadership comprises the Departments of Anthropology, Economics, Political Science, Psychology and Sociology. It offers traditional undergraduate and graduate degree programs in these disciplines plus dynamic interdisciplinary programs in International Relations, International Studies, Latin American and Latino Studies, Mental Health Counseling, Pre-Law, Public Service Management and Women's Studies. The Colin Powell School is also home to the Skadden, Arps Honors Program for Legal Studies, the CUNY Dominican Studies Institute and the CUNY PhD program in Clinical Psychology. Nearly one third of all City College degrees are awarded by the Colin Powell School, which builds upon CCNY's exceptionally strong tradition in the social sciences.