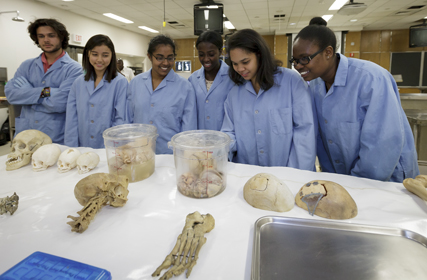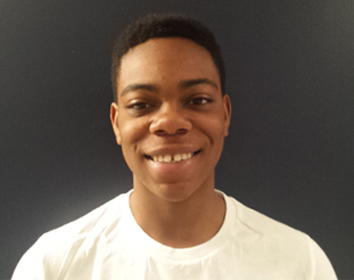 The new school year is a special one for aspiring and current students of The City College of New York's Sophie Davis School of Biomedical Education.
Starting in 2016, Sophie Davis students will be among the first graduates of the new CUNY School of Medicine, which is pending approval from the New York State Board of Regents.
One aspiring physician is high school student Damola Ajibola, who spent the summer taking college-level courses through the CUNY Early College Initiative. Ajibola, who is entering his senior year at City College Academy of the Arts, has wanted to be a perinatologist for as long as he can remember. Deterred from pursuing his dream due to the high cost of medical education, Ajibola feared that he would have to forgo his dream and settle for a career as a physician' assistant.
"After I became aware of the new CUNY medical school, medical school no longer seemed to be a discouraging factor for me," he said. "Being able to be given the chance to attend an affordable medical school and receive a quality education is a deal of a lifetime."
 
Ajibola recognizes that nothing is certain, as the program will continue to have a very competitive admissions process. But he remains resolute in his determination to be a doctor.
"The vision of a plaque on my door that says "Damola Ajibola, M.D." is no longer a part of my imagination," he said. "It is a goal for my future."
Two current Sophie Davis students also look forward to being graduates of the new School of Medicine.
Queens born and raised John Mancini, a rising second year student who "loves being a Sophie," has long aspired to a medical career.
"From silly little things like bringing ailing friends orange juice and dressing up in a white coat, it became apparent to me at an early age that I would like to be a doctor," he said. "As far as what kind of doctor I'd like to be, I'm honestly not sure yet, but I'd like to pursue a field that involves intimate patient contact and the ability to constantly be on my feet."  
Suha Na Javeed, who is entering her second year, was more interested in music than science as she grew up in Fresh Meadows, Queens. When she was 13, a life-saving operation on a close relative changed her perspective.
"Medicine wasn't always my passion," said the jazz enthusiast. "But I saw the huge effects of medicine on peoples' lives."
Originally intending to practice family medicine when she graduates, her experience at Sophie Davis, including meeting alumni at various events, has caused her to consider a career in sports medicine. She works part time at an occupational therapy office, an experience that reinforces her commitment to her chosen vocation.
"I find the patients' stories interesting," she said. "And I like to see the process of healing."
About The City College of New York
Since 1847, The City College of New York has provided low-cost, high-quality education for New Yorkers in a wide variety of disciplines. More than 16,000 students pursue undergraduate and graduate degrees in: the College of Liberal Arts and Sciences; the Bernard and Anne Spitzer School of Architecture; the School of Education; the Grove School of Engineering; the Sophie Davis School of Biomedical Education, and the Colin Powell School for Civic and Global Leadership. U.S. News, Princeton Review and Forbes all rank City College among the best colleges and universities in the United States.