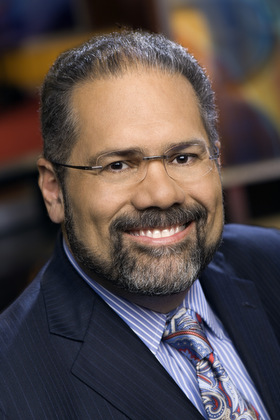 Host of Al Jazeera America's "Inside Story" to appear in conversation with President Coico
Veteran journalist Ray Suarez comes to The City College of New York, Tuesday, February 25, for a conversation with President Lisa S. Coico. The event, to be held in The Great Hall, begins 5:30 p.m. and is followed by a reception at which Mr. Suarez will sign copies of his newest book, "Latino Americans: The 500-Year Legacy That Shaped a Nation." The event is free and open to the public; however reservations are required. 
Mr. Suarez is the permanent host of Al Jazeera America'sdaily program "Inside Story." He joined the network from PBS' "NewsHour," where he worked from 1999 to 2013, most recently as its chief national correspondent. Before joining PBS, he hosted National Public Radio's "Talk of the Nation" for six years.
Prior to joining NPR, Mr. Suarez spent seven years reporting for Chicago's NBC-owned station WMAQ-TV. Earlier in his career, he was a Los Angeles correspondent for CNN, a producer for the ABC Radio Network in New York and a reporter for CBS Radio in Rome.
In 2010, Suarez was inducted into the National Association of Hispanic Journalists Hall of Fame. He also is a co-recipient of two Alfred I. duPont-Columbia Awards for NPR's on-site coverage of the first multiracial elections in South Africa and of the first 100 days of the 104th Congress.
In 2012, he was the guest speaker at City College's 166th Commencement, at which he was awarded the honorary degree Doctor of Humane Letters.
To attend please RVSP before February 20 by email to events@ccny.cuny.edu, online at http://bit.ly/1dqm5uIor by phone to 212-650-6141.
Copies of Mr. Suarez's book, "Latino Americans: The 500-Year Legacy That Shaped a Nation," in English or Spanish are available for advance purchase through La Casa Azul Bookstore, 212-426-2626.
The event is presented by President Coico and the Rifkind Center for the Humanities and the Arts.
About The City College of New York
Since 1847, The City College of New York has provided low-cost, high-quality education for New Yorkers in a wide variety of disciplines. More than 16,000 students pursue undergraduate and graduate degrees in: the College of Liberal Arts and Sciences; the Bernard and Anne Spitzer School of Architecture; the School of Education; the Grove School of Engineering; the Sophie Davis School of Biomedical Education, and the Colin Powell School for Civic and Global Leadership. U.S. News, Princeton Review and Forbes all rank City College among the best colleges and universities in the United States.