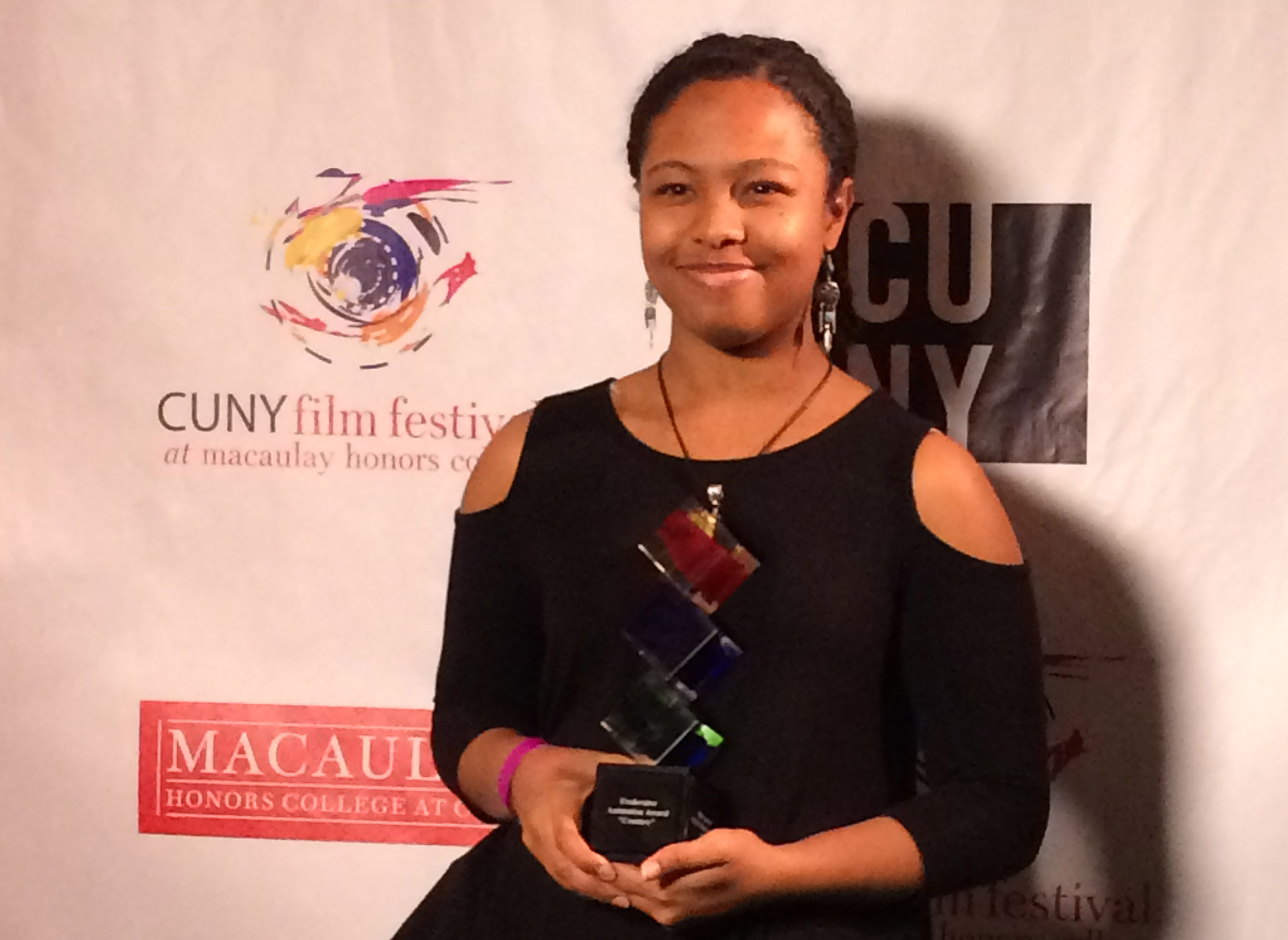 Keila Solomon, a recent graduate of The City College of New York, has won the Frederator Award for Best Animation at the CUNY Film Festival. Solomon, who earned a BA in Art with a concentration in Digital Design while at City College, beat out 22 other animated films to win for her animated short film, "Couture". Fred Seibert, the head of Frederated Networks, presented her with the award.
"Couture" tells the story of a girl who wishes for a beautiful prom dress who is surprised to find that getting what she wants is even more satisfying when she makes it happen – with the help of a new friend.
Solomon says "Winning the award means a lot because I see it as encouragement to keep going. At times, I consider focusing more on illustration because animating is hard work. But although it's challenging, animation is also super fun."
Her work has been in several screenings and festivals since her 2017 graduation such as the Rarebit Animation Festival, ASIFA East's Animators of Color Screening, and the Hostos Student Film Festival.
The CUNY Film Festival celebrates diversity of ideas and visions while recognizing excellence in production of the work of CUNY filmmakers. It is the only CUNY wide, student-run film festival. The CUNY Film Festival features the film work of all of the senior CUNY colleges. 
About The City College of New York
Since 1847, The City College of New York has provided a high quality and affordable education to generations of New Yorkers in a wide variety of disciplines. Today The Chronicle of Higher Education ranks CCNY #2 among public colleges with the greatest success in ensuring the social mobility of our student body; at the same time the Center for world University Rankings places it in the top 1.2% of universities worldwide in terms of academic excellence. More than 16,000 students pursue undergraduate and graduate degrees in eight professional schools and divisions, driven by significant funded research, creativity and scholarship. CCNY is as diverse, dynamic and visionary as New York City itself.  View CCNY Media Kit.