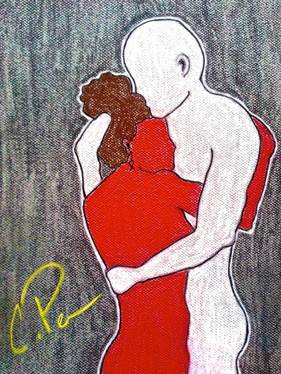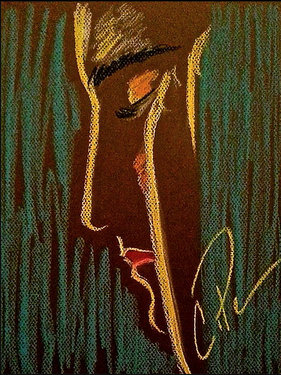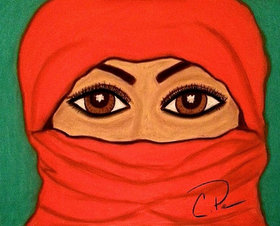 Self-taught artist Chrissy Pena's exhibit looks at HIV/AIDS, breast cancer and self-preservation
Self-taught fine artist Chrissy Pena has explored the beauty of life against all odds in her powerful exhibit "The Rhythm of My Colors," currently on display at the City College Division of Interdisciplinary Studies at the Center for Worker Education (CWE). The 20-piece framed pastel art installation runs through December 6 and is free and open to the public.
In her first exhibit at a college or university, Pena focuses her artwork on showcasing people's strength, love, faith, and overcoming adversity. "I let the rhythm of the colors tell the story when words fall short," says the Bronx artist. "My art is my hobby and also heals me. It's my private space — a place no one can come into."
Pena, who first started sketching and painting canvases in 2004, is inspired by many loves, including music, photography, people and, most importantly, her faith. Her artwork is extremely colorful, and she utilizes bold lines to emphasize movement and emotion. Her work has been featured at the Bronx Music Heritage Center, two rawartists.org events in New York and at an event at the Raymour & Flanigan furniture store in Yonkers.
The opening reception for the exhibit will be held 6 – 8 p.m. Monday, December 2, at the Center for Worker Education, in conjunction with its AIDS Memorial Quilt VIP Reception. Viewing hours for the exhibit are 9 a.m. – 9 p.m. Monday through Friday, and 9 a.m. – 4 p.m. Saturday, through December 6.
About the Division of Interdisciplinary Studies at the Center for Worker Education
The City College Division of Interdisciplinary Studies at the Center for Worker Education (CWE) provides an excellent education in Lower Manhattan to working adults from New York City and surrounding regions. CWE offers an interdisciplinary bachelor of arts degree, a bachelor of science degree in early childhood education and a number of certificate programs. Its courses and educational programs are specifically designed for students whose access to higher education may have been limited or interrupted due to financial limitations, work responsibilities or family obligations.
CWE Contact Information
Elena Romero, Communications Coordinator, CWE, (212) 925-6625 x 258, eromero@ccny.cuny.edu.
About The City College of New York
Since 1847, The City College of New York has provided low-cost, high-quality education for New Yorkers in a wide variety of disciplines. More than 16,000 students pursue undergraduate and graduate degrees in: the College of Liberal Arts and Sciences; the Bernard and Anne Spitzer School of Architecture; the School of Education; the Grove School of Engineering; the Sophie Davis School of Biomedical Education, and the Colin L. Powell School for Civic and Global Leadership. U.S. News, Princeton Review and Forbes all rank City College among the best colleges and universities in the United States.