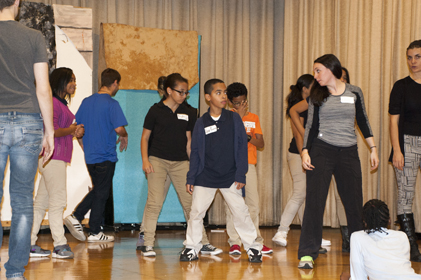 For its first partnership with a higher education institution, the Roundabout Theatre Company chose the City College of New York's Graduate Program in Educational Theatre to create a new course for pre-service teachers and teaching artists.
The course, "Fundamentals of Teaching Technical Theatre," is currently being taken by 18 graduate students. This partnership offers the graduate students opportunities to take classes in the first half of the semester at Roundabout's Education Studio, where they learn about the various technical aspects of theatre. In the second half, they move to P.S. 161 to fulfill their field work requirement by spending four hours a week with the P.S. 161 students, assisting them with their production of The Lion King Jr.
The grad students are divided into six teams, each of which works with a team of the middle schoolers on a particular aspect of the production, such as lighting, scenic design, costumes, puppetry, sound and stage management. Each team has a lesson plan for the day, designed and implemented by the graduate students.
The aim is twofold: to give the middle schoolers a hands-on experience in theatrical production, while providing practical experience to aspiring theatre teachers.
The partnership was conceived and organized by Roundabout Theatre Education Director Jennifer DiBella and CCNY Educational Theatre Program Director Jennifer Katona. The course is led by adjunct instructor Paul Brewster, Roundabout's senior manager of education programs, who checks in with each group during the rehearsal process.
The course culminates with three performances of The Lion King Jr., two for the school and one for the community, on Dec. 10. For information, visit www.ps161thelionkingjr.com.
About The City College of New York
Since 1847, The City College of New York has provided low-cost, high-quality education for New Yorkers in a wide variety of disciplines. More than 16,000 students pursue undergraduate and graduate degrees in: the College of Liberal Arts and Sciences; the Bernard and Anne Spitzer School of Architecture; the School of Education; the Grove School of Engineering; the Sophie Davis School of Biomedical Education, and the Colin Powell School for Civic and Global Leadership. U.S. News, Princeton Review and Forbes all rank City College among the best colleges and universities in the United States.