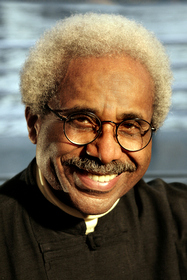 Classical pianist broke Madison Avenue's color barrier in 1955 when hired by Y&R as copywriter and jingle composer
Advertising hall of famer and renowned concert pianist Roy Eaton, '50, returns to his alma mater, The City College of New York, Thursday, November 21, to present a "Lunch with Leaders" talk to advertising and public relations majors. His topic will be "Music: a Tool for Transformation." The event takes place 12 noon – 1:45 p.m. in Room 95, Shepard Hall, on the City College campus, located at 160 Convent Ave., Manhattan.
Trained as a classical pianist, with a degree from the Manhattan School of Music in addition to CCNY, Mr. Eaton broke the advertising industry's color barrier in 1955, when Young & Rubicam hired him as a copywriter and jingle composer. At that time, he became "the first black at a major agency, with a creative function on general accounts," according to Stephen Fox's book "The Mirror Makers: a History of American Advertising and its Creators."
During a career that included a 21-year stint with Benton & Bowles, he worked on major consumer brands in a wide range of product categories, including Jello, Johnson & Johnson, Hardees and Yuban. Among his best-known jingles are "You can trust your car to the man who wear's the star," for Texaco, and "We're having Beefaroni. It's made from macaroni," for Chef Boyardee.
After forming his own music production company in 1980, Mr. Eaton decided to return to the concert stage, beginning with a performance at Alice Tully Hall in 1986. Since then, he has toured internationally and recorded albums featuring the works of Chopin, Joplin, Gershwin and others.
He was inducted into the Advertising Hall of Fame in 2010. In 2007, the Alumni Association of The City College of New York presented Mr. Eaton with the Townsend Harris Medal, which recognizes outstanding post-graduate achievement.
The media and communication arts department's advertising/public relations program and the CCNY AAF (American Advertising Federation) Club are sponsoring the lecture.
About The City College of New York
Since 1847, The City College of New York has provided low-cost, high-quality education for New Yorkers in a wide variety of disciplines. More than 16,000 students pursue undergraduate and graduate degrees in: the College of Liberal Arts and Sciences; the Bernard and Anne Spitzer School of Architecture; the School of Education; the Grove School of Engineering; the Sophie Davis School of Biomedical Education, and the Colin L. Powell School for Civic and Global Leadership.  
Set on a striking, 35-acre hilltop campus in upper Manhattan, CCNY has produced more Nobel laureates than any other public institution in the United States. The College has been touted as one of America's Top Colleges by Forbes, one of the Best Colleges in the United States as well as one of the Best Value Colleges by the Princeton Review, and ranks among U.S. News' top regional universities.