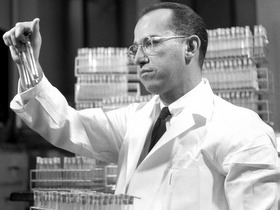 Alma mater to honor polio vaccine pioneer's 100th birthday with symposium on disease he helped defeat
The City College of New York will commemorate the 100th anniversary of the birth of Dr. Jonas Salk, one of its most distinguished alumni, with a symposium 9 a.m. – 12:30 p.m. Thursday, October 23, in the Great Hall of Shepard Hall, on the CCNY campus.
The "Jonas Salk Centenary Symposium: Polio, Vaccines & Infectious Disease – Science, History & Social Significance," will bring to City College several renowned medical experts. They will honor Dr. Salk who graduated from CCNY in 1934 and developed the first successful polio vaccine in 1955.  
Invited speakers will describe the history of the vaccine's development and the epidemics that it eradicated.  
Notable participants include:
Dr. Salk's eldest son, Peter L. Salk, MD, president of theJonas Salk Legacy Foundation;
Dr. Anne Schuchat, Rear Admiral, U.S. Public Health Service; Assistant Surgeon General and Director at the CDC;
Dr. David M. Oshinsky, NYU Langone Medical Center;
Dr. Walter A. Orenstein, Professor of Medicine, Pediatrics and Global Health, Emory University;
Dr. John B. Robbins, Honorary Medical Professor, the Sophie Davis School of Biomedical Education at CCNY; previously Chief, Laboratory of Developmental and Molecular Immunity, NIH.  
The event is free and open to the public but registration is required. To register, click here.
A panel discussion moderated by Dr. Vincent Racaniello of Columbia University College of Physicians and Surgeons will be followed by a Q&A session with the audience.
About The City College of New York
Since 1847, The City College of New York has provided low-cost, high-quality education for New Yorkers in a wide variety of disciplines. More than 16,000 students pursue undergraduate and graduate degrees in: the College of Liberal Arts and Sciences; the Bernard and Anne Spitzer School of Architecture; the School of Education; the Grove School of Engineering; the Sophie Davis School of Biomedical Education, and the Colin Powell School for Civic and Global Leadership. U.S. News, Princeton Review and Forbes all rank City College among the best colleges and universities in the United States.