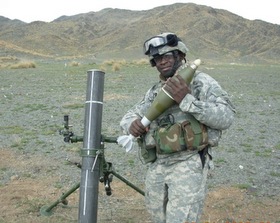 Samuel Innocent, a senior at The City College of New York and U.S. Army veteran who was deployed in Afghanistan, is featured in the latest edition of Time magazine.
Recently awarded a Tillman Military Scholarship by the Pat Tillman Foundation, Mr. Innocent and other scholars past and present attended a leadership summit in Chicago last week.
Continued service was one of the themes at the gathering. Mr. Innocent, who is pursuing a double major in biology and political science and is a Fellow with CCNY's Colin L. Powell Center for Leadership and Service, talks in the article about his aspirations.
"Once you have that attitude that instilled character to serve your nation, to contribute to the greater cause, the greater purpose…it never leaves you," he tells the magazine.
The Brooklyn resident is president of the City College Veterans Association (CCVA), which serves as an outlet for the public service spirit instilled in members while in uniform.
CCVA responded to the 2011 Japan earthquake and tsunami by organizing fundraisers and also raised money to help victims of Hurricane Sandy last fall.
On the Internet
About The City College of New York
Since 1847, The City College of New York has provided low-cost, high-quality education for New Yorkers in a wide variety of disciplines. More than 16,000 students pursue undergraduate and graduate degrees in: the College of Liberal Arts and Sciences; the Bernard and Anne Spitzer School of Architecture; the School of Education; the Grove School of Engineering; the Sophie Davis School of Biomedical Education, and the Colin L. Powell School for Civic and Global Leadership.  
Set on a striking, 35-acre hilltop campus in upper Manhattan, CCNY has produced more Nobel laureates than any other public institution in the United States. The College has been touted as one of the Best Colleges in the United States as well as one of the Best Value Colleges by the Princeton Review, and ranks among U.S. News' top regional universities.