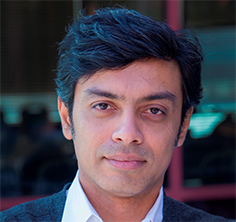 A City College of New York Physics Department team led by Professor Vinod Menon, in collaboration with Assistant Professor Pouyan Ghaemi, is using a $2 million National Science Foundation Emerging Frontiers in Research and Innovation grant for its project, Excitonics and Polaritonics using 2D materials (ExPo2D).
The four-year project aims to develop the next generation of photonic and electronic systems and sub-systems that exploit the unique advantages of atomically thin (graphene-like) semiconductors.
The team also includes Professors Marc Baldo, Dirk Englund and Jing Kong of the Massachusetts Institute of Technology.
The highly competitive EFRI program focuses on important emerging areas of science and engineering that are of national importance. The program provides an opportunity to embark on rapidly advancing frontier topics such as the development of atomically thin semiconductor devices.
Approximately 120 applicants went through two stages of proposal selection. Fewer than one in ten was selected.
About The City College of New York
Since 1847, The City College of New York has provided low-cost, high-quality education for New Yorkers in a wide variety of disciplines. More than 15,000 students pursue undergraduate and graduate degrees in the College of Liberal Arts and Science; Bernard and Anne Spitzer School of Architecture; School of Education; Grove School of Engineering; Sophie Davis Biomedical Education/CUNY School of Medicine; and the Colin Powell School for Civic and Global Leadership. U.S. News, Princeton Review and Forbes all rank City College among the best colleges and universities in the United States.